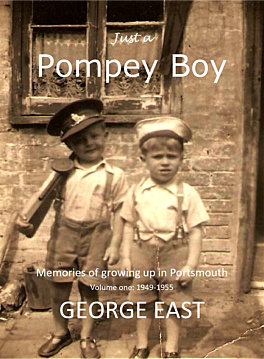 At last we are able to tell you about the latest book from George East.
Portsmouth-born author George East has recalled life in the city at a time when bomb-damaged buildings were adventure playgrounds and the communal family bath was taken once a week in a tin tub in the kitchen.
In Just a Pompey Boy, - published by La Puce Publications available in e-book form through Amazon and also in paperback - George invites readers to travel back to the years immediately after World War Two, when the city was recovering from hundreds of bombing raids on the Naval Base.
As he says, he wanted to pass on memories of that unique time before it was too late: 'When I ran the local radio station in the 1970s,' says George, 'one of my priority projects was to record the memories of older Portsmouth people about life in the city in the previous century. There's a huge amount of historical data about Portsmouth, but not so much about what life was like for ordinary people in the past. Then my wife pointed out that I should share my memories of Portsmouth after the war before, like bomb dumps, food rationing, Saturday morning picture clubs, trams and mud-larking, I'm no longer around.'
'I hope older readers will be reminded of their childhood when times could be hard but life was good', adds George. 'They say the past is a foreign country, and I reckon younger people will be amazed at how we lived then, and some will think I was writing about a time when Queen Victoria was on the throne!'