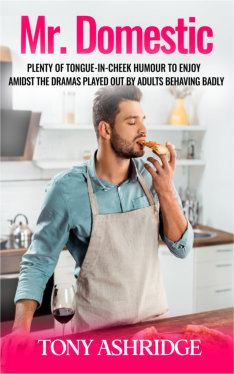 Upwardly mobile Dan Fisher feels that he has, at last, got a firm foothold on the career ladder. He is looking forward to the holiday of a lifetime with his young family when, at the age of 36 everything suddenly goes wrong. He finds himself on an uphill struggle trying desperately to cope single-handedly in looking after his invalid wife and children whilst earning a living. He has always been a dab hand with the vacuum cleaner and polishing rags, but he is now thrust into the deep end of domesticity.
Just when he thinks that things can't get any worse, the hand of fate unexpectedly slaps him even harder. He grapples with the problems thrown-out by his wife's illness; battling with religious fanatics, his antagonistic relatives, Social Services, the Child Support Agency and the legal system.
Dan's story is based on true events and charts the struggle to win through in the face of adversity. It tells how he becomes a changed man, understanding and coping with the pressures of modern-day working life on domestic bliss.
There is plenty of tongue-in-cheek humour to enjoy amidst the dramas played out by adults behaving badly.

About the Author
Tony Ashridge lives in Denmead and draws a lot of inspiration for his books from local villages and towns in the area.
Tony worked twenty-five years as a teacher in Hampshire schools; bringing up his three children as a single.
His first novel, Mr. Domestic on sale at Amazon for £7.99 takes a single dad's tongue-in-cheek view of the world.