FIND THE ENERGY TO STAND OUT AND THRIVE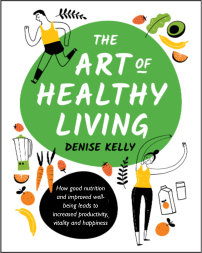 Most of us could benefit from a more energetic, vibrant, healthier quality of life. It's easy enough to just survive, but there is so much more we could achieve if we only had a bit more vitality. What if we could enhance our energy levels to achieve a life we truly love and thrive in all areas of our lives?
There are many reasons to live a healthy lifestyle and just as many approaches to achieving it, but it's not always easy - some methods may seem too extreme, too limiting or too short lived. However, in The Art of Healthy Living, seasoned nutritional therapist Denise Kelly shares her expert knowledge on how small changes to diet and lifestyle can help you feel more energised, productive and motivated.
Readers will learn how to give themselves the knowledge and power to stand out and thrive by:
Balancing fitness and fun in their diet and lifestyle;
Making simple adjustments to improve the quality of their personal and professional life;
Reaching creative potential through greater well-being;
Enjoying higher energy, better mental and physical ability and increased strength.
Kelly also discusses how to include superfoods in your daily diet and how to use herbs that really enhance energy and vitality.
Life is short, and it makes no sense to go about each day feeling despondent and lethargic. The Art of Healthy Living will help readers achieve an exuberant, energised existence.Due to be published by Capstone, 22nd November ISBN: 9780857088116