Pompey Boy becomes Pompey Lad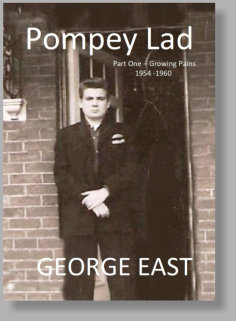 Part one - Growing Pains – 1954 – 1960
"Together with my heavily greased Elvis quiff, drape jacket, pink shirt, green slim jim tie and yellow socks, I must have looked a real sight patrolling the local manor with my two best mates. I thought my swaying swagger looked menacing and cool, but observers probably thought I was having a problem staying inside my oversized 'apple box' crepe-soled shoes. There was also the problem of my mascara pencilled-in fake sideboards running down my cheeks and into my collar if it rained…"
In the sequel to Just a Pompey Boy, author George East takes the reader back to a time when Portsmouth was recovering from the devastation of World War II, and times as well as the city were a - changing. The Swinging Sixties loomed, bomb sites and slums were being replaced by blocks of council flats, some houses had inside toilets, but rationing was still in force and children could still play safely in the mainly car-free streets.
This second helping of George's memoirs begins with the family moving from their distinctly unusual guest house to a corner shop close to Fratton Park. From there, we follow George's small adventures as he attempts to grow the perfect quiff and become a future rock 'n' roll star, makes his first illegal visit to a pub and has his first fumbling encounters with the opposite sex.
Funny, poignant and at all times immensely readable, Pompey Lad part one - Growing Pains 1954 -1960 is about a young man's coming-of-age, but also about a great city and its people at a very particular time in its long history.
A truly honest and sometimes racy account of George's struggles with adolescence and his first sexual experiences.
Pompey Lad part one - Growing Pains – 1954 – 1960 is available in e-book or paperback format