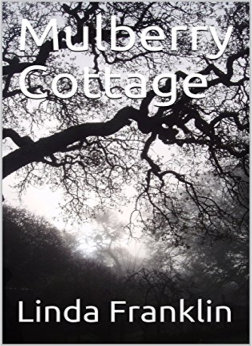 I was walking in the bluebell woods behind the Denmead allotments early last summer with my golden retriever, Bentley, on a bright, beautiful sunny day and returned just a couple of days later. What a difference, the weather turned stormy, and what with the darkening sky and the trees whining as they violently brushed and scraped on each other in the fierce wind, the copse took on a totally different atmosphere, haunting, spooky and menacing. The perfect setting for Mulberry Cottage! I went home and started writing...
After finally finding the strength to walk out of an abusive marriage Maggie is looking desperately to make a new beginning, and to hopefully regain her badly shattered confidence and self-esteem, when she stumbles across Mulberry Cottage.
Maggie loves the place immediately and feels uncannily drawn to the pretty thatched cottage, but all is not what it seems. It doesn't take long for the feeling of peace and serenity that she initially felt to turn to pure terror and she realises that perhaps living alone and isolated wasn't one of her brighter ideas. Having poured all her resources into the property she has no choice but to stay, but to continue to live in Mulberry Cottage she will draw on every bit of courage that she can muster.
Mulberry Cottage is available on Amazon Kindle