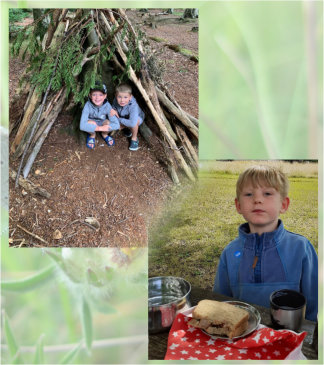 "It makes you realise how precious nature is" – families across region enjoy inspiring outdoors activity programme
A new appreciation of our beautiful natural world was experienced by scores of families who took part in a fun nature-based activity programme.
Families from across the South East took part in the John Muir Award programme over the spring and summer months – doing everything from nature walks in the woods to building bug hotels. Inspired by the "founding father" of the National Park movement, John Muir, families simply had to get out and explore green spaces on their doorstep, whether that be a garden, local park or nature reserve.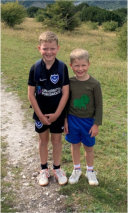 The inspiring scheme was spearheaded by the National Park's new Families Outreach Officer, Siân Jones, who produced a series of newsletters and things-to-do sheets, packed with ideas of fun nature-based activities families could do at little cost.
Over seventy families signed up to the newsletters and used them as inspiration for activities over the summer, sharing their experiences with others. Seven families and two individuals completed over twenty-five hours of nature-based activities and have now earned themselves a Family John Muir Award.
Achieving an award is Vicki Stewart, and her sons Hugo, six, and Charlie, eight, who had a whale of a time exploring the National Park, including Butser Hill and Queen Elizabeth Country Park.
Vicki, from Waterlooville, Hampshire, said: "We loved every minute of it! We had not long got a puppy so we thought it was a brilliant way for us to explore more of the local area.
"Then we went into lockdown and it became a great excuse to just get outside and get some fresh air. We had been to Butser Hill before, but we weren't aware that it was part of the South Downs National Park.
"At first we did loads of research and found out about the local area we live and where we could explore. We didn't realise how many amazing places we had access to!
"My boys just loved the exploring part – they're little adventurers! They would get all their gear on and binoculars ready and it felt like a big day out for them. We loved the bug hunting and also took part in the big butterfly count. They even learned how to build an outdoor shelter using natural materials they found on the ground.
"We did walks at Queen Elizabeth Country Park and had a "mindfulness spot" where we'd just stand and listen to nature. Just being outside, seeing all that green really grounded us and almost pressed the 'reset' button."
And Vicki added: "The whole experience has definitely reconnected us with nature and to understand how important it is. It's probably something everyone should do!
"The boys have not stopped talking about it and it's really sparked their interest in what they can do to help the environment. They're thinking more about recycling and what they can plant in the garden. One of my sons has even got himself a compass now. We just enjoyed it so much and would do it all over again!"
Jo Gold, from Yapton, West Sussex, completed the activities course with her five-year-old grandson Jacob.
She said: "It came at a difficult time when a lot of children weren't able to go to school and I've always had the ethos of being outside. So I thought it was something nice that Jacob and I could do together.
"We did loads of activities – nature walks, swimming in the sea, collecting leaves and identifying flowers. We also visited the Weald and Downland Museum and Jacob loved it so much that we've got him an annual pass. We even played hide and seek in the woods. He hid so well we couldn't find him!
"I do feel that we got more connected with outdoor space and Jacob really blossomed. He became more confident being outside in the natural world. And I think he learned about conservation by osmosis. It was a really rewarding experience for us both."
Michelle Bourton, from Portslade, near Brighton, enjoyed achieving the Family John Muir Award with her nine-year-old son Reece.
Michelle said: "We really enjoyed the experience and had some great adventures!
"I would say our favourite days-out were to Tilgate Park at Crawley and Devil's Dyke – we saw lots of birds and animals and it was really inspiring.
"My son has special needs, so it's been a wonderful experience for him and really helped with his confidence. He's now really interested in nature and especially all the different birds.
"It's an experience I would recommend to other families!"
The activities were put together by Siân with the help of Rachel Johnson, an Assistant Ranger. Activities included growing vegetables on your window sill from left overs, leaf rubbing, wild writing and what to look out for on your daily walk. There were also lots of ideas for activities that people could do to care for the natural world, including litter picking, planting bee-friendly plants, making bird feeders and hedgehog highways.
Siân Jones, Families Outreach Officer for the National Park, said: "It's been so lovely working with all the families and hearing about how much they've enjoyed the experience.
"The people who completed the award will all be getting a certificate from the John Muir Trust, together with a selection of South Downs National Park goodies to mark their achievement.
"One of our participants summed it up for me with their testimonial: 'It makes you realise how precious nature is'. We can never take nature for granted and it's wonderful to see people, especially children, discover this new appreciation for all that it gives us and, most importantly, want to care for it."
Over the next year, Siân and her team will be trialling more face-to-face family work with charities such as Enable Ability, which is Portsmouth-based and works with young people who have a disability.
Sian added: "This work is due to start this autumn, and we hope this will be the beginning of us being able to directly deliver activities to families in the South Downs National Park."
For more information about completing a John Muir award with the National Park please visit www.southdowns.gov.uk/john-muir-award-in-the-south-downs-national-park/