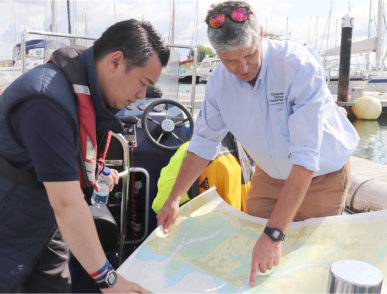 The commitment by Southern Water follows the announcement of the Government's Storm Overflows Taskforce which agreed to set a long-term goal of eliminating discharges from storm overflows.
Mr Mak said: "I am delighted that the Government is bringing forward this new legislation. These new laws will give further protection for users of Langstone Harbour and Chichester Harbour all-year round.
"Now the Government has made this announcement, I will continue to put pressure on Southern Water to improve performance and publish their plan to end the use of storm overflows. I'm also proposing a new Regional Forum to work with them to improve our local water quality."
Local MP Alan Mak has welcomed a Government announcement for new legislation to reduce sewage discharges from storm overflows.
Alan's campaigning work in Westminster has been successful as the Government has confirmed it will turn into law several key policies that will make our rivers and harbours cleaner. The new legislation will create three key duties to deliver some of the changes needed to improve our water environment:
a duty on government to publish a plan by September 2022 to reduce sewage discharges from storm overflows;
a duty on government to report to Parliament on progress on implementing the plan; and
a duty on water companies to publish data on storm overflow operation on an annual basis.
This builds on the work already underway by the Storm Overflows Taskforce, set up in September 2020 to bring together government, the water industry, regulators and environmental NGOs to accelerate progress in this area.