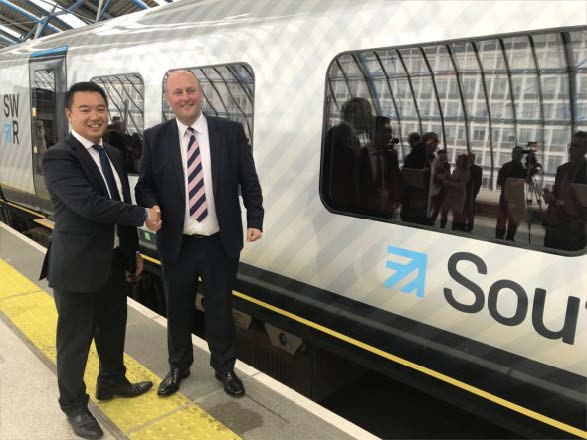 After lobbying for better trains since being elected in 2015, MP Alan Mak has challenged the new operators of the Havant to London line to deliver on their promises of faster, better trains as they take over the franchise on 20 August.
In their successful bid, First Group and MTR promised refurbished trains, faster wi-fi on trains, 35 additional weekly services between Havant and London Waterloo and increased Sunday services. They also promised to add 22,000 extra seats to services entering London Waterloo during the morning peak and increase capacity during the evening peak by 30,000 extra seats.
This in conjunction with improvement works to London Waterloo, a more comprehensive compensation system - including for delays of fifteen minutes or more - and flexible season tickets, which should mean a better service for commuters.
Mr Mak met First Group during the bidding stage to lobby them on behalf of Havant's residents and commuters – and recently met Andy Mellors, the new Managing Director of the South Western franchise in Westminster following the announcement they had won. Mr Mak wanted to hear the operators' detailed plans now that the contract has commenced.
The Havant MP stressed the importance of the promises that were made during the bidding process, and said he expects improvements to be made to services. He also welcomed the continued record levels of investment being made at by the Government to modernise the Britain's railways.
Mr Mak said: "Having campaigned for better trains over the last two years, including meeting First Group during the bidding process, I have now met the new Managing Director of the South West franchise which serves Havant. I hope First Group and MTR will deliver an improved service for customers. Since 2015 I have campaigned for better, faster trains from Havant to London Waterloo so I know how vital it is for Havant's economic growth that the planned changes go ahead.
"While both First Group and MTR have strong track records of delivering successful railway franchises, I know that residents and travellers will want to see action straight away. That is why South Western need to implement improvements such as better compensation for delays and flexible season tickets as soon as operationally possible."