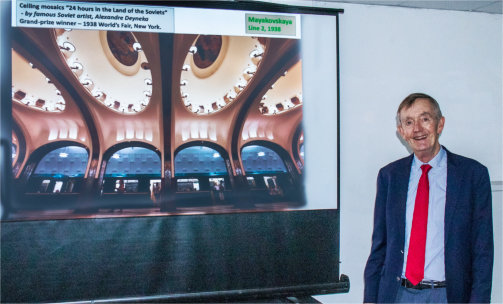 On Saturday 16th November 2019 a large audience enjoyed a WEA Day School at the Spring Arts and Heritage Centre in Havant. The lecturer, Mike Grundy, gave a full and informative background to Russian history leading to the Art of the Metro. Many of the Russian leaders mentioned were familiar, from Peter the Great to Trotsky, Stalin and Putin.
 Mike explained that the Moscow Metro became Stalin's flagship project from the 1930s. The Metro is approximately 80 metres deep and has 14 lines and 212 stations, vast marble halls and was to be the "showcase for the people."
 A continuous building project, the Metro was designed by over 100 architects. The early stations exteriors are classical designs like Greek temples, inside they appear vast and very impressive with coloured marble columns, chandeliers, candelabra and mosaics – the extravagant designs are breathtaking. There are Art Nouveau designs as well as Murals on ceilings that tell a story. In 1994 more minimalist designs were introduced and the audience saw themes of Chekhov plays, sporting events, farming and industry of the working world.
 At the end of Mike's informative and entertaining lecture people in the audience felt inspired to visit Moscow to explore the Metro and its artistic treasures.