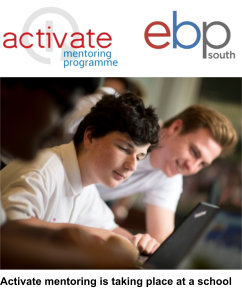 EBP South has secured funding to expand the delivery of their Activate Mentoring Programme, now going into its fourth academic year this September.
There are an increasing numbers of schools recognising the value of 1-1 mentoring, there is more demand than ever for working professionals to take up mentoring and give back.
This year there has seen an 80% increase in the number of schools across the Solent area signing up to the Activate Mentoring Programme with EBP South.
Mentors act as positive and trustworthy role models to 14 – 16 years olds, in local schools, that are at risk of not achieving their potential. They provide up to an 1 hour a week during term time to go into a school and support a young person they've been carefully matched to.
Activate Mentoring's aims are to give students confidence in achieving their potential, build their resilience, and assist them in future planning. It plugs the gap between the qualifications students gain at school and the soft skills which employers value; such as proactive problem solving, making a business pitch or speaking to customers on the phone.
Doug Atkins the Mentoring Programme Manager said 'Our mentors want to support young people in a way they hadn't been supported themselves when they were at school. They believe young people need someone to give impartial support at a time they're being told what to do by a lot of different people."
EBP South are delivering the Activate Mentoring Programme as part of The Careers and Enterprise Company's national effort to support 25,000 young people across the UK at risk of disengaging from school by unlocking their employment potential.
EBP South is recruiting mentors for schools across Southampton, Portsmouth and South Hampshire. If you want to get involved contact the mentoring team on mentoring@ebpsouth.co.uk for more information.