So Wear Yellow Day will be very different this year, as families and friends travel to London, to march through the streets.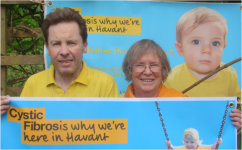 For the second year running, his parents Kayleigh and Dale Broad have very kindly allowed his image to be used on banners and postcards, to advertise Cystic Fibrosis Week, in June, culminating in Wear Yellow Day, on June 22. The local (Portsmouth) branch of the Cystic Fibrosis (CF) Trust is grateful to the Pfizer Havant Community Fund, for making this possible. We were able to send a gift of space hoppers and school packs to the youngest CF children in the borough, to encourage them, their little friends, and their families to bounce.
The photo shows Mikey's banners, held by Sue Kruk and her son Xavi. A couple of years ago, she and Xavi (48) completed the Couch to 5 K scheme, in Havant , and Sue , at 75, enjoys her swimming lessons, aqua exercise and gentle walking. Mikey's Mum, as soon as she found out about CF, decided that she would encourage Mikey to be extra active. She also set up a facebook page, Mikey's CF Journey @mikeybroadCF, to raise funds for charity and foster understanding. She and Dale, and Mikey's maternal grandparents organise Little B's Race Day (named after Mikey) as an annual event. It raises money for the CF Trust and hopes to raise awareness of this chronic, genetic illness. Almost one hundred and fifty tickets have been sold and the family is hoping to beat the amount of money they've raised for the CF Trust the last two years to help with their vital research into finding a cure for their little boy and all those with CF. Fifty years ago, when the Trust was first set up, most children with CF tragically died in early childhood. Twice or thrice daily physiotherapy, medications, and a special diet become a way of life, with frequent hospital visits and sometimes intravenous antibiotics thrown in. But cystic fibrosis is different for every person, and happily, most children with CF will now live to adulthood, and lead, to the outside world, a near normal life, with education, work, travel and sport all possible.
Only family-- parents, siblings, partners, children- and close friends know about the hard work and dedication needed behind the scenes.. The treatment is relentless, every single day of life, and can dominate the life of the whole family. Please help by at least wearing something yellow on 22 June, and joining Mikey in supporting over ten thousand young people in the UK.
Many of you have already helped so much, by signing a recent petition about Orkambi and precision drugs in the pipeline, organised by two CF mothers, Gemma Weir