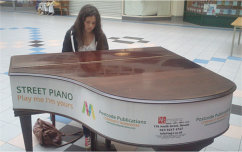 In December Rob Fryer manager of the Meridian Shopping Centre gave £570 raised by donations to Street Piano players on the mall from July to October last year, to World Bicycle Relief (Buffalo Bicycles) - helping international children and communities who have to travel long distances for their education and work.
These funds were eligable for Gift Aid and match funding. This is on top of the £900 donation at the end of 2017 which again with Gift Aid and match funding totaled £2,940. This represented a fantastic thirty bicycles provided in needy areas.
Rob said "We would again like to thank very much all our customers for supporting this great initiative."
"Dear Rob
Thank you for supporting World Bicycle Relief Uk with your generous gift through the Big Give.
Your donation of £570 enabled the addition of £142.50 from Gift Aid, and £570 Match Funding to make a total of £1,282.50 for World Bicycle Relief UK. "