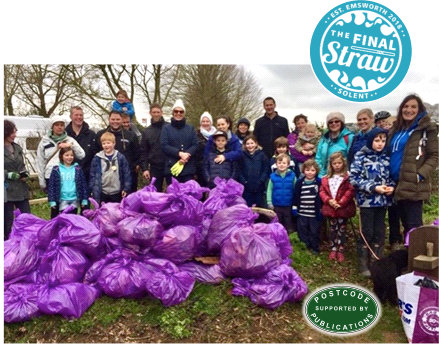 Volunteers young and old give up their time to make a difference to our beaches
Nearly a hundred people gave up their Saturday morning to come and help clean up a local shoreline on Hayling Island over the Easter weekend. The Final Straw Solent carried out their second organised beach clean on the 30th March, and by the power of social media alone an amazing eighty-three people, young and old, came along to help clean up a section of The Hayling Billy Trail. Sixty-five bags of rubbish were collected by these dedicated volunteers. Featuring highly among the collection of rubbish were plastic water bottles, dozens of straws and cotton bud sticks – not forgetting the carpet, tyres and deflated rubber dingy that were lugged down to the collection point.
"The turn-out is incredible," said Final Straw Solent founder, Bianca Carr, "We are so grateful to all the fantastic volunteers who have come to help this morning. I'm blown away by the number of young families who are here – it's so important to teach the next generation that we need to take care of our environment. Our seas and coastlines are in the middle of a plastic crisis, and we all need to start reducing the amount of single-use plastic that we buy and taking responsibility for cleaning up after ourselves."
The UK and USA throw away 550 million plastic straws A DAY. These straws are, on average, used for twenty minutes before they are tossed in a bin (or, unfortunately, on the floor). It is estimated that a straw will take over 200 years to break down – that straw you used last week will be around long after you are! And before they start to break down, they can pose a threat to wildlife. When the plastic eventually starts to break down, it becomes tiny bits of micro-plastic that can be eaten by marine animals. There is some evidence these micro-plastics have entered our food chain. And plastic acts like a magnet for chemicals, it adsorbs and holds them so that if they are ingested they cause even more problems as the chemicals are slowly released.
It can all feel a bit overwhelming, so we have decided that we need to focus on the small things we can do to make changes.
REFUSE STRAWS - Most people do not need a straw, and if you do then why not use a paper, wheat or bamboo straw or reusable metal one. If you are offered a straw in a café, bar or restaurant, just say 'no thanks!'.
USE REUSABLE BAGS - Plastic bags are not very strong anyway and can get blown into the countryside, waterways or the sea so easily. There are loads of interesting, cool, fun or pretty reusable fabric shopping bags around, so why not take one of those with you every time you go shopping, rather than asking for a plastic one?
USE REUSABLE WATER BOTTLES - Single-use plastic bottles are expensive to produce, use up valuable natural resources to make and transport and create mountains and mountains of waste once we've gulped down the contents. And recycling is not the answer either, here in the UK an estimated 800 plastic bottles a MINUTE are either ending up in landfill or as litter, which will too often make its way into our waterways and out to sea. We can all help with this by purchasing a re-usable water bottle.
Put simply, if it's plastic or wrapped in plastic, think about viable alternatives. Refuse that straw and any other unnecessary plastic, spread the word and help save our planet!
We hope that people will follow this campaign with earnest and join us for our next organised beach cleans, and that it will have a positive impact on our environment and change peoples' views on their consumption of single-use plastic.
Please find the Final Straw Solent on all social media networks and at www.finalstrawsolent.org
https://www.facebook.com/finalstrawsolent
https://www.instagram.com/thefinalstrawsolent
https://twitter.com/FinalStrawSOL