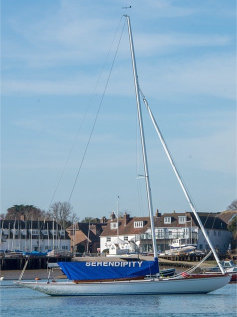 An impressive 22 Solent Sunbeams ventured from Chichester Harbour to Cowes Classic Week, making them the second largest fleet at the event and the class's largest turnout at the regatta since its inception in 2008
V68 Sky took the first win on in the 5th race in 12-17 knots of wind with V70 Minty second and V26 Danny third despite their early start and re-rigging of a new mast. Race 6 started with a three-mile long beat to South Bramble which V18 Polly lead for the first half but was overtaken by V32 Holly and V70 Minty just before the windward mark. Tactics in the strong tides was crucial to the results of this race which saw V32 Holly win ahead of V12 Argosy.
With just one race on the final day, the overall result was still very much in doubt. The sun came out but the light winds led to a long delay until finally a 12-15 knot breeze filled in. Strong tides meant some of the fleet overstood the windward mark and the final result was decided by a match race between V26 Danny and V32 Holly with the overall regatta win at stake.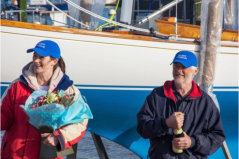 V32 Holly managed to hold off V26 Danny at the finish and took the regatta win by just two points. V70 Minty held off V68 Sky for third place. Congratulations go to Martin & Vicky Jones in their newly acquired and very beautiful 94-year old Sunbeam, V32 Holly. A former world champion in the International 14 dinghy class, Martin summed up the week commenting that its been some of the closest and most enjoyable racing that he and Vicky had enjoyed for a long time, which was made even more special by racing in such historic boats.
Such was the closeness of the racing during the week that 5 different boats won at least one race and the top 6 boats were divided equally between the traditional wooden and newer GRP hulls, although the first two boats were wooden.
For more information on sailing and owning a Solent Sunbeam as well as information on all the forthcoming events please contact the Class Association via the website at www.solentsunbeam.co.uk