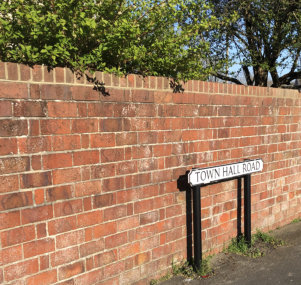 On my walks around Havant in the hour allowed us for exercise, I have become more and more fascinated by the building construction which can be seen in our town. I have admired the 'rat trap' bond brickwork in Richard and Carol Acworths' Grove Road garden wall and delighted in finding heavy stone hidden away just off East Street which I have been told has most likely come from the demolition of Warblington Castle. One exciting find was when Keith in Davies the Chemist showed me the huge stones in the shop's inner walls which are hidden behind the display counters. Their origin is quite a mystery.
Some years ago David Bone, a local amateur geologist, surveyed the outer walls of St Faith's Church. There are sixteen different types of stone used in its construction which reflect repairs to the building, the additions and rebuilding which have taken place since the Saxon Church was replaced in the twelfth century. There have been several major reconstructions, the very biggest one which is known about, during the 1870s when the whole of the West End was remodeled and the Church was closed.
The variety of stones which are used are typical of a church in the West Sussex/Hampshire coastal plain. Caen stone which is found, is likely to represent reused demolition materials from earlier construction. This would have been transported by boat from Normandy. Bath stone came by rail from various quarries in the Cotswold area during Victorian times.
The most abundant stone in the Church is from Bembridge. Its use ranges from fragmentary rubble to large 'ashlar' building blocks. It is likely to be of Saxon or Medieval origin. This freshwater limestone has fossil shells within it and pin prick sized holes can be seen where the fossilized bodies of Chana, a stonewort, have fallen out. These stones would have been transported by boat from the North and East Coast of the Isle of Wight (the Bembridge Ledges).Other fossils can be found in Purbeck Marble which is packed full of small freshwater shells. This stone would have originally been part of a polished stone altar or grave cover. It can be polished but it is really a limestone and comes from the Isle of Purbeck.
Sometimes broken Portland stone gravestones can be seen and Roman bricks are slipped in as inserts between other stones.
There is so much to be found from just looking around.