Community First was delighted that its 2019 Annual General Meeting and members' event 'A Connected Society', held on 25th January on the theme of social prescribing, was so well supported by members and partners.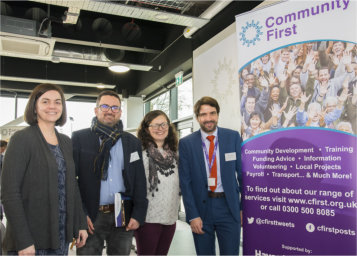 More than 130 delegates were welcomed from the Voluntary, Community and Social Enterprise sector, partners from local Clinical Commissioning Groups, Social Services, Hampshire County Council and district Local Authority partners, GPs, NHS trusts and local businesses to explore how we can work together, using social prescribing to create social solutions for healthier people and places. The event focused on exploring evidence from a range of perspectives which shows social prescribing has a key role to play helping to reduce pressure on GPs but, perhaps more importantly, that social prescriptions can improve an individual's well-being through improving social connection.
Chris Dayson, Principal Research Fellow at the Centre for Regional and Economic Social Research, was the first keynote speaker. Chris presented the emerging national picture on Social Prescribing. Debs Carter, Founding Director of Touch CIC, shared her personal and powerful testimony on the impact of peer-led support, the importance of meeting people as individuals, and taking time to listen to other people's stories. Dr Debra Gray, Reader in Psychology at the University of Winchester, led an interactive session towards a local model for Social Prescribing. The event rounded off with the keynote speakers, joined by Elizabeth Kerwood from South Eastern Hampshire CCG, taking questions from delegates in an Ask the Expert Panel.
Tim Houghton, Community First CEO, said: "People's engagement with the workshops and panel sparked a nuanced and thought-provoking conversation that made the day a great success. I want to offer special thanks to our keynote speakers and panellists for their time and insights. Feedback from delegates goes to show that this year's event really struck a chord. The inclusion of Social Prescribing as part of NHS England's 10 year Forward Plan and the commitment from the government to invest in a National Outcomes Framework for Social Prescribing is a recognition of the fact that the voluntary sector has a key role to play in helping to address many of the wider socio-economic determinants of health.
The voluntary sector has a vital role to play in helping to improve health and wellbeing and providing much-needed support for those with long term conditions and those who need help with social care. Community First's role is to bring organisations together to ensure we make the very best use of our collective expertise and capacity. Our newly launched Hampshire and IOW Social Prescribing Network will continue the momentum of this event."