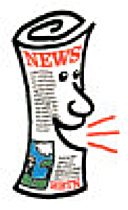 There is light at the end of the Pandemic-tunnel. We can now see a route back to 'normality'. Family, friends, hugging, schooling, shopping, dining, pubbing - all come to mind.
It has been tough and it has been so for a long time - but have you thought about those for whom the 'lockdown' has made little difference. Those who for many years find it difficult to go out, who are isolated from their loved ones and others and unable to be involved in their community. We have all learnt a little about loneliness over the past year - but ours is coming to an end.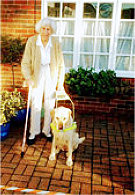 The Havant Talking Newspaper has for 27 years been providing a free service to those that literally cannot see 'the Light at the end of the Tunnel'. Every fortnight an hour-long edition of local audio news is posted out to blind and partially sighted members of our community. The audio news is sourced from local publications (including this newspaper!) and delivered by mail to our 'Listeners' on a USB memory stick. It is a simple process for the Listener - the memory stick arrives in the post, they listen to it, and then pop it back in the freepost envelope. The service is free and, if needed, we can provide the Listener with a user friendly USB listening device with simple tactile controls. The regular flow of 'Local News' keeps the Listener in touch with the local community and rekindles their sense of belonging. We know that for many the service is really appreciated. The photo is of Flora, Guide Dog to the late Jean Smith of Hayling. Flora, now retired and lovingly cared for, accompanied us at many of our 'stalls' at local Fairs
First point to note is that if you know of anyone whose loss of sight is bringing them a sense of isolation and who could benefit from the News service then do let us know If the Talking News proves not to be for them so be it. There is no harm in trying though.
We have a team of around fifty volunteers who undertake the various jobs to keep the News editions coming out. Editors who source and select suitable and varied articles. Producers who knit the forthcoming edition into shape. Readers who - read, Engineers (our boffins) who make sure our 'Ums' and 'Errs' go unnoticed. Finally a Distribution team who send the new edition on its way to the Listeners.
Second point to note. Post Lockdown I am sure we will be looking for more volunteers - new blood with new ideas is always appreciated. Only a few hours a week is normally involved. So if you have the time and inclination let us know.
We operate out of our studio in East St Havant, a shabby looking building about to have a major makeover courtesy of our kind landlord Vivid Homes and the support of Councillor David Guest. The Pandemic and the need for 'home-working' has made us Zoom competent and masters of the art of under-the-duvet recording - necessity rapidly makes the unthinkable both achievable and then the norm.
If you would like to help financially you can donate through the website at http://hbtn.org.uk/support_us.html , on CAF Giving or you can support us through the Havant Lottery. Or if easier just send us the lolly! Havant Talking Newspaper, 19 East St, PO9 1AE. Our annual costs are around £7,000 and we exist through donations alone.
To make contact: Tel: 023 9248 0101 Email: admin@hbtn.org.uk website: www.hbtn.org.uk