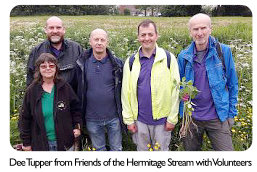 Clouds threatened but rain stayed away for a volunteer day to help Friends of the Hermitage Stream.
 Pfizer a large company based in New Lane, Havant are undertaking a varied programme of volunteering throughout the year organised by Community First. A group of four employees gave up their morning to help, along with volunteers from Positive Pathways, a project based in Leigh Park supporting local residents in the Havant area who need assistance to volunteer in the community.
 Friends of the Hermitage Stream are a community volunteer group looking after the stream and surrounding areas. They work with local schools doing activities such as stream dipping, bug hunting and even creating wild flower areas.
Every year the Hermitage Stream has a huge problem with Himalayan balsam. It's been fun and very rewarding for us to be out and meeting new people in the community."
Ian from Pfizer said, "It's good to volunteer for local groups as it gives us a fascinating insight into the reasons why local people give up their time to keep our local areas a pleasant place to visit."
Without the support of local businesses, many charity and community groups would struggle.
For more information about how you can get involved with the Employee Volunteering Scheme contact Rachel Taylor at Rachel.taylor@cfirst.org.uk or telephone 0300 500 8085 ext 9274