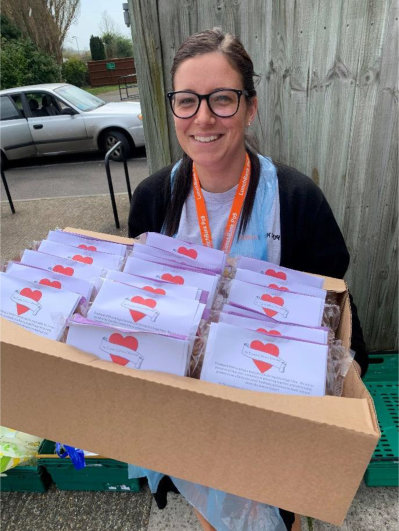 13ANK has been supported by Community First to operate FoodBank three days a week from Leigh Park Community Centre. Their LunchBank Po9 project is preparing and delivering hot meals from Bedhampton Community Centre, run by the Bedhampton Community Association.
13ANK projects support the community of Leigh Park, one of the country's largest and most economically challenged housing estates. 100% of the effort on the ground comes from volunteers, who organise food parcels at Leigh Park Community Centre and cooked meal deliveries through LunchBank Po9 at Bedhampton Community Centre. FoodBank and LunchBank operate entirely with volunteers on the ground and, until recently, they served the local community with no grant funding.
Now, 13ANK's projects are supported by a grant from Havant Borough Council, as well as £500 from Greggs to cover volunteer fuel expenses. Her fundraising efforts is just one example of the brilliant ways that key workers are supporting each other during this challenging time.
Community First, a Hampshire-wide voluntary sector support charity, are also staffing Leigh Park Community Centre three days per week for FoodBank. Community First's Community Development team are supporting 13ANK with bid writing to help the projects meet growing demand during COVID-19. The charity has also offered 13ANK use of kitchen equipment and donated £250 for food and essentials, as well as providing moral and professional support.
Director Darren McKenna said, "13ANK have been feeding up to 100 families a week during the height of the pandemic through our LunchBank and FoodBank projects in the Po9, thankfully we are now able to begin scaling this back as our community enters the new normal. We are indebted to our community for the donations we received to support us during this time, and the support we will no doubt continue to receive.
People who would like to be involved with FoodBank Po9 or keep up with the latest news can join their Facebook group: https://www.facebook.com/groups/424700067631042/. If your community group needs support or volunteers during the current pandemic, please contact Community First at support@cfirst.org.uk