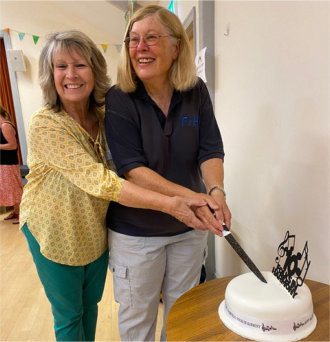 Bedhampton choir Folks in Harmony celebrated their tenth birthday with a delicious homemade cake baked by choir member Rosie Willoughby. The choir sang Happy Birthday to themselves as they celebrated with coffee and cake!
Back in 2012, 3 members of a ladies chorus, MaryAnne Beames, Fran May and Lin Longhurst decided to try something new, so created an a cappella choir and invited some men to join. They started singing in a sitting room and quickly grew to 18 members for their first official practice in August 2012. Needing a larger venue the choir hired Bedhampton Community centre, where they've been ever since.
The choir now numbers 43 members and sings a variety of music from the worlds of pop, musicals, folk and the occasional choral piece, often with choir members suggesting the songs.
Over the years the choir has performed for the community centre, which was the very first one, as well as taking part in various community settings, and for charities, QA Hospital, Porchester Memorial Gardens and organising biannual concerts at The Church of the Resurrection in Drayton. The charities supported have included Rowans Hospice, Zellweger UK, The British Red Cross and Chichester MS Society.
As the choir grew and improved, they took part in several music festival competitions including Bournemouth and Portsmouth, and were thrilled to be finalists at Bournemouth in 2015, and to win Choir of the Year at Portsmouth in 2018.
Covid didn't stop the choir rehearsing and they continued to practise throughout, albeit via Zoom, progressing to outdoor rehearsals, before returning to the Community Centre, culminating last month in their first concert since 2019!
Founder MaryAnne said, "A choir becomes like a family, and most people join it for a reason. The friendship and support that comes from singing together is a wonderful bonus. Friendships have blossomed. Small ensembles have formed, including a sea shanty group The Barnacles. We have sung at members' celebration parties, weddings and at their funerals, including one of our founder members, Fran who sadly passed away in July 2018."
Both MaryAnne and Lin are still involved in the choir, and invite anyone interested in joining them to come along to their taster session on Thursday 8th September at 7.15pm. There is no need to read music and both men and women are welcome!
Check the website for more details www.folksinharmony.co.uk or ring MaryAnne on 02392 241633 for more information.