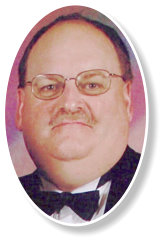 Solent Male Voice Choir is using zoom to overcome lockdown blight and keep its members enthusiasm levels high until normality returns.
"We are making sure, with a lot of enthusiasm from our members, that we make full use of the technology to keep in touch and enable practices to continue", said chairman David McVittie.
"Then, come the autumn, we'll be fully ready to get back to performing again," he added.
They will be doing so under their new conductor Huw Thomas pictured here, formerly their Assistant M.D., who is taking over from Geoff Porter, their leader for the past four years, who becomes M.D. of Hampshire police Male Voice Choir in September.
Huw is an accomplished musician – he plays piano,organ and trumpet – and as a tenor has sung leading roles in opera and musicals. He has conducted choirs,big bands and orchestras.
Now that he has stepped up the choir needs to find a replacement for him as assistant director and accompanist.