Almost a year ago to the day Lockheed Martin UK embarked on a beach clean at The Oyster Beds, Hayling Island. On the 18th May this year, the firm returned for another dose of fresh air, community spirit and a sense of accomplishment along with the Friends of Langstone Harbour. The Friends of Langstone Harbour are a conservation group promoting interest in the harbour and working to improve the area for local people and wildlife.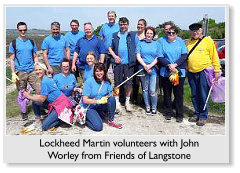 They welcomed the help from Lockheed Martin to keep the shoreline clean and litter free, particularly as plastic in our oceans is currently such a hot topic. A lot of the plastic from on-the-go food and drink packaging gets broken down in the sea and is often mistaken for food by fish and birds. Regular beach cleans are a great way for groups to get together as a team whilst helping their local community.
Lockheed Martin UK, based at Havant, regularly take part in volunteering activities organised by Community First and over the past few years have helped many local charities and organisations. Mark Ralphson, a director at the company, is pleased to be out working with Community First on local projects. He said, "The beach clean is always a great event, all be it we are surprised at the amount of plastic and general litter we find.
It is a gentle reminder to all of us to dispose of our waste responsibly both as individuals and as Lockheed Martin." John Worley from the Friends of Langstone Harbour said, "We have had a lovely day with Lockheed Martin, Hayling has never been cleaner. It has been a privilege to be out with such a hard working and cheerful group of people." Without the support of local businesses, many charity and community groups would struggle.
For more information about how you can get involved with the employee volunteering scheme contact Rachel Taylor at Rachel.taylor@cfirst.org.uk or telephone 0300 500 8085 ext.9724.