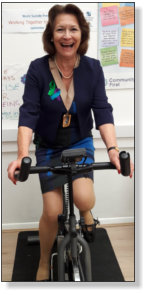 On 10th September a mental health awareness event took place at Leigh Park Community Centre with over 150 people attending. Local people were invited to the Positive Living Event to find out about what services are available for people with mental health issues in the Havant area. Twenty agencies were represented, including Citizens Advice, Bereavement Centre, Mind, Parkway, Off the Record, Community First Youth and Training Teams, Chrysalis, Orion Centre, iTalk, SDAS, Making Space, Samaritans, Recovery College, Hollybank, Richmond Fellowship and Biscoes Solicitors.
The Positive Living event took place on World Suicide Prevention Day, helping to raise awareness about mental health and what services are available. A person dies every 40 seconds by suicide and up to 25 times as many again make a suicide attempt. At the event there was an exercise bike with attendees taking it in turns to cycle as many kilometres as they could. The challenge was to cycle 100km which would be added towards the global number of kilometres people were cycling on the same day around the world at similar events.
One person at the event stated "I wanted to attend the mental health day to find out about what help I can get for my 23 year old son, who has depression. I have met many mental health providers and got some really useful information and now feel more confident about helping my son with his recovery. I also had a go on the exercise bike and cycled 5k!".
The event was organised by Community First's Positive Pathways Big Lottery Funded Project, an initiative that supports people in the Havant area to volunteer in the community. Ina Allum, the Positive Pathways Coordinator said "we had a fantastic day with great support from local agencies, with the Deputy Mayor of Havant, Cllr Diana Patrick and Tim Houghton, Chief Executive of Community First, opening the event. Cllr Patrick also had a go on the exercise bike, contributing to the 100k achieved by the attendees. I would like to thank all the agencies and local residents that came along to support this event and hope that if just one person got the information they need to help them on their mental health journey, then it was a great success".