Doesn't have to be yesteryear, yesterday will do!
Do you have memories of Leigh Park Gardens? Ones from the last decade or even just last Monday?
Do you recall the Six Penny Six or have newspaper cuttings about the lightning tree? Do remember the picnics in the summer of 2018?
We'd love to hear of them and create some design works with you in order to mark the new developments taking place this year.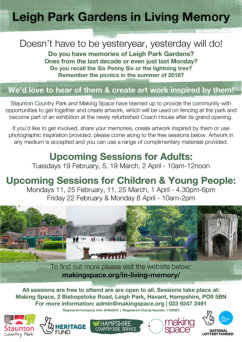 Staunton Country Park and Making Space are teaming up to allow the community to create designs which will to remind everyone of how the park has changed and keeps changing.
Designs will undergo a selection process and the chosen few will be placed on the fencing that goes up around the park whilst construction work takes place, so that local residents and visitors can see how much memory lives in the parkland.
Other designs will have the chance to become part of a local exhibition in Havant and at the newly refurbished Coach House after its grand opening next year.
We will be running FREE sessions for adults every 1st and 3rd Tuesday of the month between 10am and 12pm, and for young people ages 10-14 fortnightly on Mondays from 25th February from 4.30-6pm. Materials and inspiration will be provided, and this is a wonderful opportunity to create something that will hopefully last for generations to come. For more information visit https://makingspace.org/in-living-memory/
We are also launching a brand new Youth Forum for 15-19 year-olds.
Through generous funding from The Arts Society Portsdown, Making Space has been able to launch our first ever Youth Forum for creative 15-19 year olds.
At a time when arts subjects are not being supported in school, Making Space is in a prime position to support young people in finding pathways into understanding and gaining access to the creative sector. We are keen to build on our successes and ensure the voice of young people is threaded through our charity, helping us shape how we work and continue to innovate going forwards.
Our new Youth Forum will engage young people who feel ready to develop leadership, research, devising, creative planning and team work skills. This group will inform our programming and take the lead on planning a large scale creative project.
The Youth Forum is able to accommodate up to 14 proactive and enthusiastic young people aged 15-19, this might include young people who have already taken part in previous activities/ projects or those with an interest in creative career pathways. The Youth Forum will expand participants knowledge and experience, enabling each young person to understand the broader arts world and consider their place within the sector, in terms of options for continued learning, enjoyment and fun!
The Details:
The Youth Forum will meet once a month in 1.5hr session at a time and place decided by the participants.
There will be 2 'Go & See' opportunities to enable to group to go to a gallery, museum, design studio or back stage etc
The Youth Forum will be co-ordinated by our Young Trustee; 19yr old Victoria Edwards and supported by Making Space Staff.
There will be 6 creative Masterclasses which take place throughout the year. Youth Forum members can decide what they want to do in these sessions.
There will be options to undertake the Arts Award at levels Bronze – Gold paid for by the project (these can be used on CV's and as UCAS points)
The Youth Forum will play a pivotal role in planning and leading on a project which Making Space will apply for funding for (such as Heritage Lottery Fund: Young Roots)
The Youth Forum will create opportunities to share their work with others and mark key milestones (such as gaining an arts award / sharing findings from a 'Go & See'
All sessions are £1.50 each and participants can sign up for 2 x blocks (see below for details)
Upcoming Sessions
Tuesday 22 February 2019 – First Creative Youth Forum Master Class – Hand-stamped Copper Pendants with Emma Burfoot.*Click here to book*
A chance to get creative, make something unique to take home and find out a little more about the Youth Forum
We are running 2 x 45min sessions for x 10 participants. Session 1: 1.30pm-2.15pm | Session 2: 2.15pm-3pm.
Monday 25 February – First Youth Forum Session *Click here to book*
A chance for initial members to get together and get to know one another, to start planning ideas, find out about the arts award, and think about the 'Go & See's' and the master-classes. The group will also be able to plot in upcoming dates to fit around commitments & exams.
Session runs from 6pm-7.30pm (refreshments provided).