Langstone Cutters Gig Club is Hampshire's first Cornish Pilot Gig Club and they have been introducing gig rowing and racing to the local community since 2013. They are based at Northney Marina on Hayling Island and row all year round in the beautiful waters of Chichester and Langstone Harbours.
A Community Rowing Club run by volunteers with around 130 members of all ages from 12 to 80 years old, which include all levels of fitness and ability. They row traditional Cornish Pilot Gigs which were originally used as lifeboats and to ferry pilots out to incoming vessels along the Scilly Isles and South West coast. These are beautiful, traditionally built six oared boats and the club currently own three wooden racing gigs – Heart of Hayling, Spirit of Langstone and Star of Northney along with two GRP training gigs – CShel and Islander.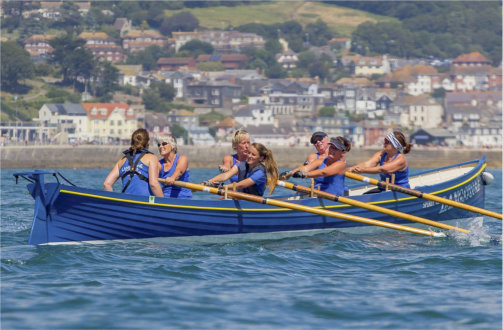 Club membership consists of both recreational rowers and those who wish to race in regattas along the Jurassic Coast into Devon and Cornwall throughout the summer, and in the World Pilot Gig Championships held in the Isles of Scilly every May. The club takes part in a number of Jurassic regattas and also the Great River Race, The Hamble River Raid and they also host their own yearly Junior Sprint event at Whale Island with clubs coming from Devon, Dorset and Cornwall.
As well as the fitness and competitive side, and the joy of being out in the fresh air year-round, members enjoy the camaraderie of being part of a team, both in and out of the boat. In addition, they have an excellent programme of social events which are always well attended by members and their families.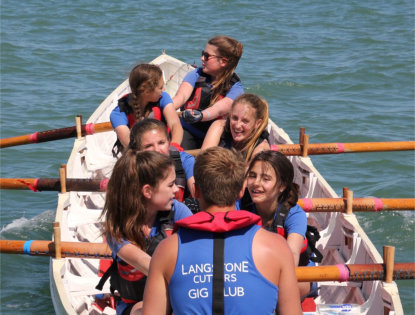 The club recently received funding from Sport England to purchase a new GRP training gig. This new GRP gig will enable the club to further develop it's on water training throughout the year, and therefore increase the numbers of people that are able to enjoy the wonderful waters of Chichester and Langstone Harbour. Members were invited to submit ideas and a ballot was held of the top four favourites. The result was that the new boat will be called "Islander."
Gig Rowing is Britain's fastest growing water sport and the club is a BBC Get Inspired Partner. Havant Borough Sports Association recently awarded the Gig Club a Team of the Year Award and they finished third in the highly competitive 2017 Jurassic League. Langstone Cutters Gig Club welcomes new members irrespective of age or fitness. Your first visit will be free and all you need to be is keen to row!
Please contact either Brian on 07713 987590 or Jackie on 07977 162646 who would love to hear from you, and we can get you booked into a free session.