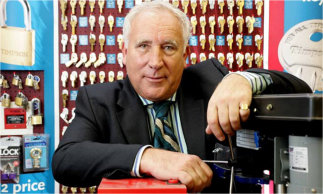 Sir John Timpson supports 60 years of Rotary in Havant Hampshire
Sir John Timpson joined the President of Havant Rotary Jenny Edgell to celebrate Havant Rotary Club's Diamond Charter Dinner.
Jenny met Sir John over fifty years ago when they were both Students. Jenny said "I wrote to Sir John a while ago to invite him to speak after dinner. I am so impressed by his generosity in giving up his time to join us at this important occasion. The ethics of Timpson's business sit well with the Rotary ethos."
Sir John is CEO of Timpson's the well-known shoe mending and key cutting business and his career is remarkable in its ethical approach to business. It is not a C.V., but personality in interview that determines your suitability to work for Timpson's; whether you have a Prison Record or are a graduate you are treated with the same respect and encouraged to take the initiative. One of many business books, written by Sir John, tells the story of 'Upside Down Management' which is a guiding principle of Timpson's business success.
Havant Rotary began in 1957 and there were 25 members who between them ran most of the local businesses. It was strictly a 'Gentlemen Only' lunch club. "The members list in 1957 reads like a 'Who's Who' of local long-gone businesses."
In 60 years, Havant Rotary has more than doubled its number of members; raised at least £100,000 from the good people of Havant and supported many causes both local and abroad. We have had in the region of 10,000 meetings; eaten nearly 3000 meals together in friendship and even visited India, to assist in the Rotary End Polio Now vaccination project.
There have been great changes in Havant Rotary during the 60 years, most notably the inclusion of Women as Rotarians.
Jenny said "It was 1999 before Havant admitted women and I was the first! Today there are 12 of us, all very active members brimming with ideas and enthusiasm."