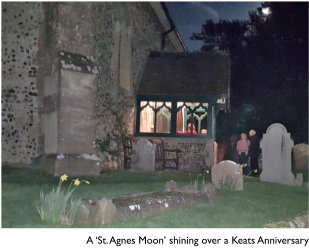 On a very cold night in Old Bedhampton the porch of the 12th Century Church of St Thomas shone a shimmering beacon of light onto its dark steps.  The date 20th January 2019 was identical to the night two hundred years earlier, a black cold night, the same candlelit church the same full 'St. Agnes moon'
 But our travellers tonight were a mixture of poets, parishioners, churchgoers and historians, many of them Havant U3A members. All were there to remember and celebrate a visit made to The Mill House at Bedhampton by the great poet John Keats. The place  where he stayed for two weeks at the home of Miller John Snook and his wife Letitia  and where he composed possibly his greatest work 'The Eve of St. Agnes'
The Church was lit by over one hundred candles and the simplicity of its interior and the flickering glow gave an atmosphere and a presence that was tangible. This simplicity and beauty was enhanced by the Actor and Wordsmith Tom Durham giving a faultless recital of the 42 Stanza romantic poem, supported perfectly on piano by Carol Frogly. Tom was word perfect as he walked the aisle of the full church giving an elegance and life to the beautiful lyrical words.
Nigel Gossop of The Bedhampton Historical Collection Group and a Havant U3A member who organized the anniversary events has given and will continue to give of his time in speaking and writing to remind us of this important Poet.  He was branded  at the time a 'cockney poet' but who along with Lord Byron and Percy Shelley was to become the last of the romantic poets.
 Sadly Keats was to be the the first to die. In 1820 he returned to The Mill House to what was to be his last night on English soil and he died in Rome in 1821 at the age of just twenty five.