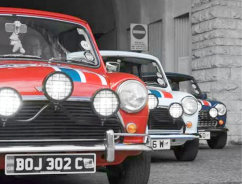 Local TV Presenter Richard Stringer has been inspired to take part in taking on a "Mini Adventure" challenge of a lifetime to raise money for Buttle UK Children's Charity, by driving a classic mini over 3,000 miles to Italy from the UK and back again in just ten days after reporting on the partnership between Buttle UK and The Italian Job.
Starting in England and then touring through the Italian countryside, taking in a few race tracks along the way including Imola and Monza, before reaching Turin and the iconic roof top test track of the former Fiat car factory, that featured in the 1969 Michael Caine film.

Richard aims to raise in excess of £1,500 for the charity, as well as corporate sponsorship.
At £500 - Richard Will do the Cold Custard challenge. £1,000 Richard will shave his beard in a Facebook live post.
Then at £1,500 Richard and co-driver Gareth Simac, will complete the rally dressed as Mario and Luigi.
Speaking about the challenge, Richard said: "2019 is a special year, as it is the 30th anniversary of the Italian Job rally, 50 years of the Italian Job film, and most importantly 60 years of one very special little car.
And this year the rally will be in support of Buttle UK, who through an endowment from their benefactor, are able to give 100% of all donations and funds raised directly to those children and young people in need, right here in our community.
The Italian Job has been one of my favourite movies since I can remember, as was actually the reason behind wanting to own a classic mini. Getting to retrace some of the films footsteps, or should that be "tire treads" will be the chance of a lifetime. And knowing that it is all for a good cause makes it even more meaningful!"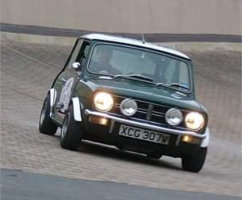 This year's rally starts on October 20th in Imola, before driving through Rome, taking a spin on the Monza F1 circuit and on to Turin. Finishing back in the UK on November 2nd.
Watch this video for an idea of what the rally will involve.
Donations can be made at: https:// uk.virginmoneygiving.com/mini_adventure