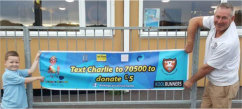 Charlie and his family started their charity, Kicking Cancer for Charlie, after he was diagnosed with Leukaemia in 2014. We'd lost other family members to cancer so it was a very real prospect."
Despite being only four months into his treatment, with no hair and a nose tube and central line fitted, Charlie was adamant that like all his nursery friends he wanted to start school. He really has had a rough few years too, where at times his body just wasn't agreeing with the chemo, he caught shingles, had glandular fever..."
Just 12 months ago and aged seven, Charlie told his mum that he wanted to start a charity to help other poorly children. For an eight-year-old he is wise beyond his years."
In September Charlie organised a 33 mile ladies charity walk between Southampton General and QA Hospital, raising approximately £6,500. At the end of the walk, Charlie and his family handed over £400 worth of toys to QA Hospital.
"Charlie wanted to give something back to the hospital that has played such a big part of his life over the years."
It was only six-weeks ago that Charlie had his last chemotherapy session. Charlie even said to me, 'Mum – what if I get poorly again?' His line has become a part of him – it's our safety blanket."
With his hair grown back Charlie is looking to the future.