Anyone who privately rents a property will know the familiar bugbear of paying a security deposit before the Landlord will give you the keys.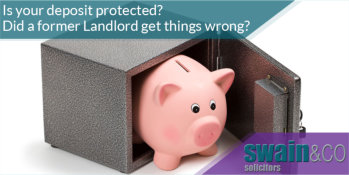 You may have received information about a 'Deposit Protection Scheme' but do you really understand what is happening to your money? Could you have a claim for compensation if your Landlord gets it wrong?
Since the Housing Act 2004 Landlords have had to take special measures when taking money off tenants for a deposit. Most importantly a Landlord must protect your deposit with a government recognised scheme.
To date there are three schemes which are: TDS, DPS and MyDeposits. These schemes are your guarantee that you will get whatever deposit you are entitled to at the end of your tenancy.
If the Landlord or Letting Agent holding your deposit goes bankrupt; the scheme will compensate you the value of your deposit. The scheme will also be an independent eye on any deductions your Landlord wants to make for damage to the property or rent arrears. It is reassuring to know that the final decision will not be your Landlord's but an independent body.
But Landlords and letting agents often get the law wrong when it comes to deposits. The most common mistakes they make are:
Failing to protect the deposit within 30 days of receiving it
Failing to keep it protected for the entire time you are in the property
Failing to give you information about where the deposit is held- the 'prescribed information'
The Housing Act 2004 makes it possible for the tenant to claim compensation from the Landlord for breaching any one of these requirements.
If the Landlord gets it wrong, you could claim up-to three times the value of your deposit back!
This means that, if you paid a £1,000 deposit which was not protected within 30 days, you could claim up-to £2,000 compensation on top of your deposit (which must be returned in-full).
You can make your claim whether you are in the property or for up-to six years after the date your Landlord did something wrong. Is your deposit protected? Did a former Landlord get things wrong? You could be entitled to compensation.
Call us today to speak to a trained adviser who can give you information on the action we can take. We can often offer fixed-fee agreements to keep the costs of your case under your control and if you win your case- there's every chance of getting your legal expenses paid by the other side.
The initial advice is free, so call us today on 0800 0351 999.