Barratt and David Wilson Homes (BDW) is continuing its positive work to support local employment, by creating new roles to develop talent in the construction industry across Hampshire.
BDW based in Southampton, aims to recruit six new trade apprentices specialising in bricklaying or carpentry and joinery to work across its developments in the region.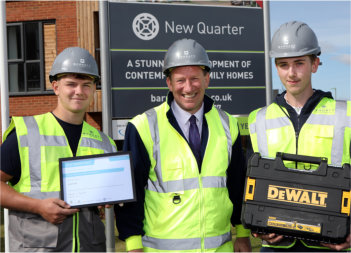 It will also look to recruit a Commercial Advanced Apprentice who will have a role based at head office.
Introduction of the National Apprenticeship Levy in 2017 has helped to promote the idea that apprenticeships provide an alternative route to traditional education. The full cost of training and assessment will be funded from the BDW Levy contributions.
The new apprentices will spend time at a local college or skills centre to gsin an intensively delivered qualification in their chosen field.
All programmes are well structured and tailored to individual needs. Apprentices will receive encouragement, support and guidance to help them develop, giving the skills and qualifications for a successful career.
Bradley Haines, who is now working as an assistant site manager for Barratt Homes in Hampshire after completing an apprenticeship with the company, said: "An apprenticeship was a great way into construction for me. I really enjoyed the mix of learning on site as well as at college. I'm proud to have now become an assistant site manager and hope to progress even further over the coming years."
For further information about the roles available and to apply visit: www.barrattcareers.co.uk
To find out more about any upcoming Barratt and David Wilson Homes developments, please visit www.barratthomes.co.uk or www.dwh.co.uk, alternatively, call the sales team on 033 3355 8472 or 033 3355 8473.