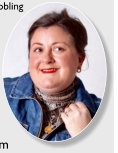 What's going on the world today is unlike anything we've seen in this lifetime. FACT. It's hard not to come into close contact with your loved ones, not to go to the supermarket without a care in the world, or even just go for dinner at your local. But alas, these are the cards we've been dealt now, and we have absolutely no control over it, we can only control how we react to it and ensure we do the right thing.
A lot of people have started working remotely from home (if they can) where they haven't been able to do this before and have no idea what to wear? Do you wear pyjamas? Tracksuit bottoms? Help?!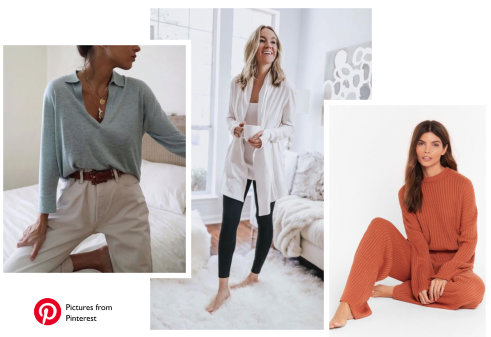 Here's what I would suggest if you're working from home and don't know what to wear:
Keep comfortable with elasticated trousers – you can find smart versions of these so you can mix comfort and style.
Dress from the waist up. This is great if you have video meetings and people can't see your bottom half! Think of nice blouses, knitted tops and shirts.
Add jewellery. Just because you're working from home doesn't mean you can't wear jewellery. Even a nice necklace and small hoops will add a little something extra to your outfit.
Try and get dressed every day. Even if you don't have a video meeting and are not going anywhere, it'll make you feel better to have some sense of normality.
Loungewear appears to be a bit of a buzzword of late, and it's been doing the rounds in the fashion world for several years now, but what exactly is loungewear? Loungewear is pretty much what it says on the tin – it's clothing for lounging, so think loose cotton tops, comfy bottoms, cardigans, vest tops and cashmere. Sounds like Christmas come early doesn't it?
Here are my recommendations on where you can buy the best loungewear sets:
Anthropologie UK
Zara
Nasty Gal
Toast
Hush
Topshop
The White Company
Me + Em
Lucy & Yak
Due to the current situation, many brands are in sale at the moment so you might be able to find yourself a bargain!
Also, look to shopping independent too if you can, there are loads of independent brands out there that could really do with the support, check your local Instagram feed or Facebook page to find them.
Lastly, please keep safe, keep well and keep positive – this too shall pass so let's wait it out in style.
www.laurenjoblingstyling.co.uk
Instagram - @ljstyling