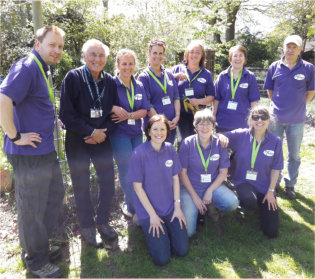 Perfect weather conditions were on the cards for an enthusiastic team of nine volunteers to give up their time to help The Hayling College prepare vegetable beds and clear out the pond area for their Growing Together project.
Employees from Pfizer, a large pharmaceutical company based in Havant, have volunteered time for many projects over the last few years, and have made a huge difference for many local charities and organisations.
For the month of April they were helping the Growing Together Project, set up by Bill Biggs and Ray Jones from Hayling Island Horticultural Society. The objective of the project is to help cross the intergenerational divide enabling children and adults to work and have fun together growing fruit and vegetables at Hayling College.
The volunteers split into two teams; one digging over a large vegetable bed ready for the pupils to plant potatoes, the other team cleared the area around the pond. Preparing the ground will enable the college to run activities, learning basic gardening and teamwork skills.
Cheryl a volunteer from Pfizer is a former pupil of the college and still lives nearby. She said, "It's been interesting to come back to my former school and to see how much has changed. I have enjoyed helping out today, it's been rewarding to give something back to my local community."
Ray Jones from Hayling Island Horticultural Society was grateful for the volunteers help "we wouldn't have achieved this without the team from Pfizer, they are such a nice group of people and we have really enjoyed their company and great conversation. They have worked so hard and we would welcome them back with open arms at any time."
Some of the pupils joined the team and were so helpful and enthusiastic. Louise from Pfizer said, "It's so nice to see the pupils interacting with Ray from Growing Together and showing him such respect, this proves that what they are trying to achieve is working."