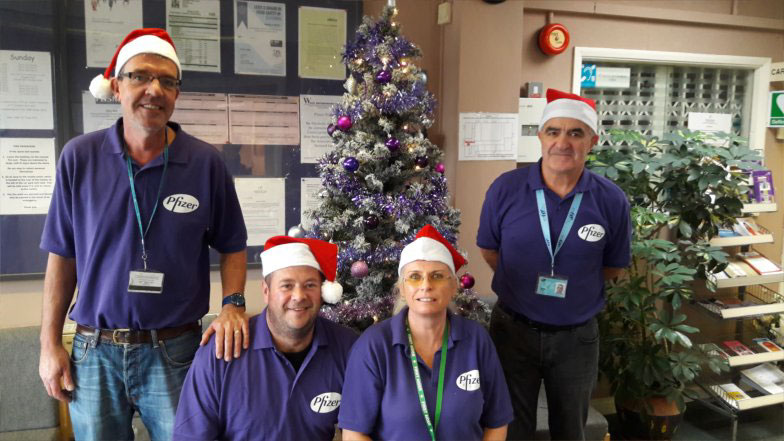 A little bit of festive cheer was delivered to Waterlooville Community Centre by a group of four willing volunteers from Pfizer, a large business based in New Road, Havant.
Waterlooville Community Centre is a busy centre open 7 days a week, serving Waterlooville and the surrounding area and it has a varied activity programme that appeals to all ages.
The volunteers spent a morning putting up Christmas trees and decorating the large hall, entrance and The York Room ready for the Christmas festivities. The team also found time to help with the lunch club, which takes place monthly in the York Room.
Pfizer take part in a rolling programme of volunteering, supporting local projects across Havant Borough. Mark, a Pfizer employee said, "This is the first time I've volunteered with Pfizer; I've really enjoyed the morning spreading the Christmas spirit through our community. It's given me a great sense of satisfaction knowing I have made a difference to the local people and I've enjoyed working with colleagues I wouldn't normally get a chance to work with."
Judy Clementson, the Treasurer of the Waterlooville Area Community Association said, "We are so grateful to Steve, Lisa, Mark and Bob, the community volunteer team from Pfizer, who decorated the Community Centre for us last Friday. Not only did they do a great job on the Christmas decorations but they also helped serve the regulars at our monthly Luncheon Club. Many thanks also to Rachel Taylor from Community First who organised the team and to Pfizer for their support in the community each year."
Without the support of local businesses, many charity and community groups would struggle. For more information about how you can get involved with the employee volunteering scheme contact Rachel Taylor at rachel.taylor@cfirst.org.uk or telephone 0300 500 8085 ext. 9724