Just because an item indicates that it is recyclable, that dosen't mean it is in Havant Borough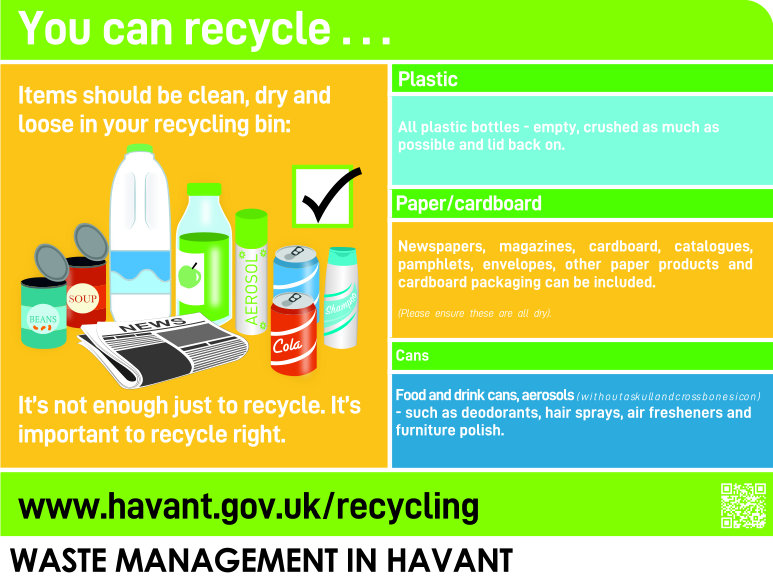 Havant has problem with Waste. We put too much rubbish in our black bins that can be recycled and too much material in our recycling bins that is not recyclable, or can't be recycled in Hampshire.
This results in contamination and additional costs (currently absorbed by Hampshire) that might have to be paid by Havant. This is a big problem.
Some simple facts:
More money is spent on Waste Management in Hampshire than on Highways Maintenance!
Havant's recycling rate is 31%, compared to Hart District Council (@ 41%) (best performing) and Gosport (@ 24%) (worst performing). The national target is 50%.
Havant's contamination rate (non recyclable in recyclable waste) is expected to be 13% for 2017/2018 against a target of 5%.
The amount of recyclable materials captured in residual waste in Havant is 17%.
The Challenge: To reverse the two figures; recycle more of the correct material and put non-recyclable material into general household waste. If we achieved this, our recycling rate would increase to 44% (the best in Hampshire) and significantly reduce the likelihood of incurring costs associated with contamination.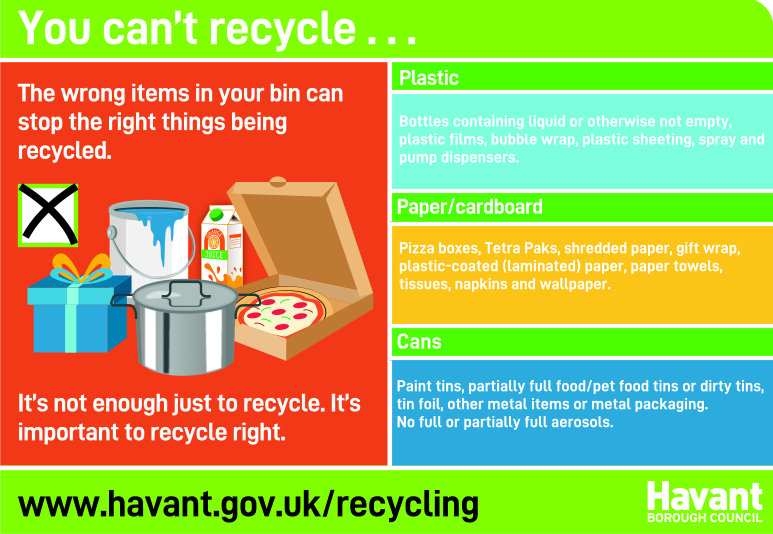 Despite what we read in the press, plastic 'food trays' are not one of biggest problems.
Surprisingly, the three biggest recycling 'contaminants' are textiles, food and 'black bag' waste. Seven Thousand (7,000) tonnes of textiles are put in recycling bins every year in Hampshire. Yes, they can be recycled... but not through our recycling bins.
Havant Borough Council has produced a leaflet that will be sent to every household in the borough with the Council Tax bills for 2020/2021. It is detailed below
Bottles/glass and clothes can be recycled; there are many collections points around the borough, but not (currently) from the doorstep by Havant Borough Council.
From 1 Apr 2020, Hampshire County Council will require residents who use Household Waster Recycling Centres (HWRCs) to register their vehicles. The move is to ensure that only Hampshire households have free access to these sites. Registering a vehicle is easy. It can be done online at: https :llwww.hants.gov. uklwasteandrecyclinq/recyclinqcentres/vehicle-reqistration or by telephoning 0300 555 1389 (residents without internet access).