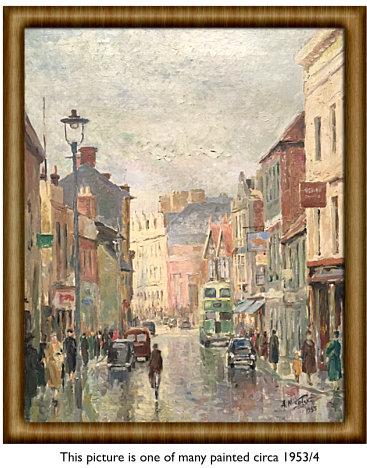 Works of the well-know local artist Athanasius Nikolski were loaned by their owners for the compilation of a gallery exhibition held recently at the Manor Farm Tearooms, Northney Farm, Hayling Island.
Son Max Nikolski a practising Russian Orthodox Priest was on hand to greet attendees and speak about his parents artistic life in Havant and Hayling Island. His mother was a sculptor.
Many of Nikolski's works were displayed in Gardeners Art Gallery that existed in East Street until the owner's retirement in the 1990s. Both parents now rest in peace in Hayling's St Peters churchyard.
An example of Nikolski's artistry in Havant is displayed opposite in his original painting of East Street Havant in 1955, kindly supplied to Postcode Publications by its owner Alan Westbrook