AUTUMN SHOW REPORT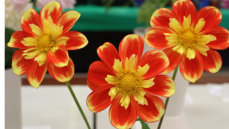 Our final show of the year was a great success with an impressive array of entries in all classes.The featured flowers of the show were dahlias and we were treated to some wonderful specimens by Barry Moore and Gordon Fryers, who between them, swept the board with prizes in these categories.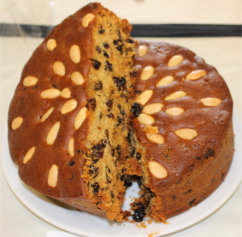 The cookery section attracted a large number of entries and the judge, Mrs Christine Cain, was impressed with the overall standard of entries. Of particular note was the outstanding Dundee cake baked by Kay Hawkins, which she felt was 'beautifully baked, almost faultless and in a different class altogether'. She enjoyed judging the Cheese Straws (Men Only) and was amused by the generous size of the individual straws which she described as 'man-sized portions'! Janice Wells was awarded the Cleeve Salver for most points in the cookery classes.
Floral art produced, as usual, some dazzling displays on the themes of Rusty Richness, Winter Sparkle and Wool, paper and leaves. Christina Jones won the Floral Bowl for most points in these categories and Gilly Webster was awarded the Judge's Personal Choice Diploma in this section.
There was an amazing and vibrant selection of fruit and vegetables and one of the most impressive was the enormous pumpkin grown by Hayling College which won the award for the heaviest pumpkin. As well as the individual items, there were some attractive displays of fruit, vegetables and flowers as well as less attractive items such as a giant beetroot!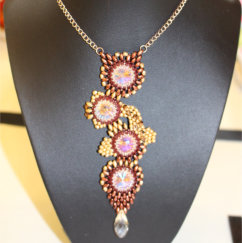 One exhibitor brought in an unusual tomato which took pride of place as people entered the hall! Wendy Sandham was delighted to win the Charles Skinner Trophy for most points in the Open Fruits classes and the Solent Fuchsia Cup for the best fuchsia exhibit.
The handicraft section had a wide range of entries from cushions to jewellery. Claire Gosling won first prize for her beautiful necklace and earrings admired by the judge for the amount of work and described as 'really very pretty and unique and autumnal too!" Linda Matile displayed her sewing skills with a lovely appliqued cushion and an embroidered Christmas stocking, winning first prize for both of these items. We were also pleased to see a large number of entries in our photography section.
We also had a whole section dedicated to Bees and were pleased to see a wide selection of honey and bee related products on display including candles, honey flapjacks and fudge, polish and mead. This section was judged by bee expert Tex Garbutt from Alton.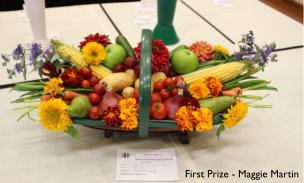 Visitors to the show were also able to buy some good value plants from our plant stall and certainly enjoyed the delicious afternoon teas provided by Kay Hawkins and her team of helpers.
A great deal of effort goes into setting up and running the show led by Show Manager, Tim Speller and Chief Steward, John Lark. Prizes were presented to the winners by Alan Mak MP.