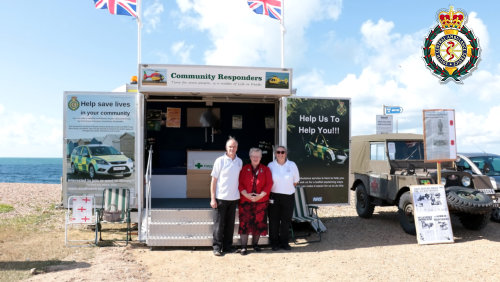 Hayling's community First Responders provided first aid cover at the 6th June D-Day memorial event at the COPP. Long serving responder Rosie Raines was present as a guest, centre of picture, in her other role as local councillor, as HRH Duke of Gloucester laid a plaque to mark the occasion.
Sara Hill and Richard coates shown in the photo along with Shaun Leinster made up the team on the day.
In keeping with the 1944 commemoration a land rover with Red Cross markings used to aid casualties in WWII was made available by Rob Adams of Hayling hardware should any persons attending for first aid require transportation!
The CFR team complete with trailer, response car and WWII land rover will be on duty at the Inn on the Beach Bygone Festival in aid of the Royal British Legion on the 7th and 8th July as well as attending many events on the Island including the St George's day celebrations Eastoke on Sunday 14th of July, Northney fete on Sunday 21st July and the ever popular Three Churches Fete 14th August.
For further details on helping the Island responders contact the Co-ordinator Phil Pritchard haylingfirstresponders@gmail.com or look in at one of the groups weekly training sessions on Tuesday evenings at 1930hrs in the Age Concern building in Webb Lane.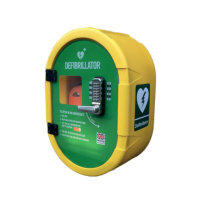 Postcode Publications has provided many Public Access Defibrillators now available for use by Hayling First Responders