Hayling Island Camera Club members have been out and about all summer long, taking advantage of the exceptional weather! In addition to personal photo-shoots or holiday images, a number of members have joined the many evening "Photo Walks" organised by member John Watkins at a number of venues along the coast from Hilsea Lines to Chichester Marina. Some of these images will no doubt appear as entries in internal club competitions during the 2019/19 season!
A very successful Annual Exhibition was held at Northney Farm Barn, Hayling Island, on 18/19th August. As the President, Keith Tester said "We had a total of 298 visitors – plus a few dogs and Doris, one of the Northney Farm chickens! (Pictured far right).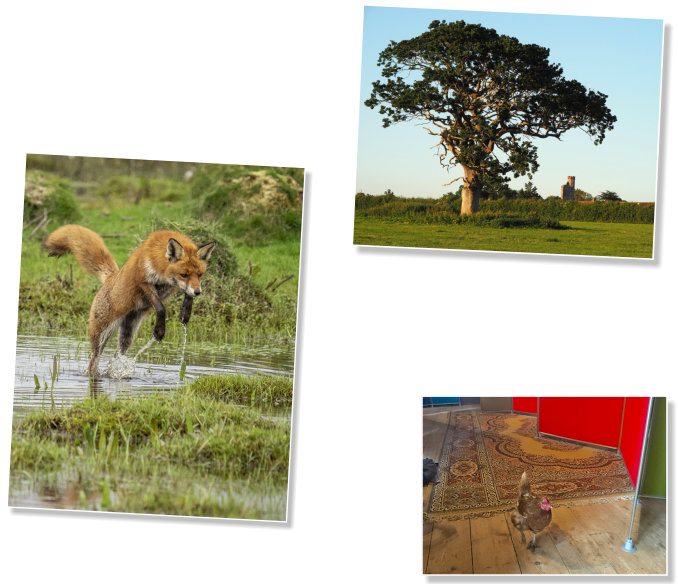 We tried to persuade her to vote for her favourite photograph but she wasn't interested!" However, most visitors did vote and the image which easily won the public vote (with a margin of over one hundred) was "A Leap of Faith" by Gill Swift (pictured right).
On the first evening of the new season, 3rd September, Gill was presented with the Lee Filters Millennium Cup by the Vice-President, Gary Kenmir.
When asked about her winning image, Gill said it was taken back in March when she and a group of friends were walking along the Hayling Billy Trail on the Island. Suddenly, they noticed a fox in a flooded field, leaping from tussock to tussock, in an unsuccessful effort to keep out of the water while he pursued a group of ducklings. Sadly, his quest was eventually successful and a duckling was carried back to the cubs in the den.
On that first evening the draw was also made to determine which Exhibition visitor won the image they would most like to take home. The winner was David Gray who had chosen "Sunlit Tree at Warblington" (pictured right) by Marjorie Clifton as his first choice. Marjorie explained that the photograph had been taken during one of the club's evening photo walks during the summer months.
The Club was pleased to welcome a good number of new members this season, many of whom had taken advantage of the free, all day workshop on offer to visitors at the Annual Exhibition.
The first outside presentation of the new season was "Talk from the Pit" by Simon Read – very different from the norm and very well-received by club members. He shared his personal journey trying to gain entry into the world of professional music photographers together with the very special challenges it presents - such as working in cramped spaces with a crowd of other photographers, dark stage areas, glaring stage lights and unpredictable singer and band movements during their performances!
If any member of the public would like to attend any of the outside presentations arranged for this season (see the full programme on the club web site www.haylingislandcameraclub.co.uk), they are welcome to come along and pay £5 at the door.