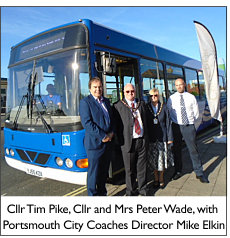 At last after much debate, fund raising and partnerships between Havant and Portsmouth councils, bus companies and donor organisations in particular the Southern Co-operative Society, finally a bus link is re-established around Hayling Island and the Hayling Ferry.
Officially started on the 24th September 2018 by the Mayor of Havant Councillor Peter Wade who took the bus from Eastoke Corner to the Ferry. The bus service provided by Portsmouth City Coaches Ltd., will run every morning 0655 till 0840hrs and every evening 1550hrs till 1835hrs Monday to Friday for a trial period of three months.
The bus bringing the Mayor of Havant was met at the ferry terminal by the Mayor of Portsmouth and Colin Hill, Hayling Ferry's managing skipper.
Mike Elkin also brought along the original open top Southdown Bus (pictured right) that ran the 149 service to the ferry back in the 1950's and 60's.
The Beachlands café at Eastoke Corner and the Ferry Boat Inn both provided hospitality for the mayoral parties and guests which was most appreciated.
The ferry will be met on the Portsmouth side by a bus operated by First Portsmouth running an hourly service between 0700hrs and 1800hrs every weekday during the trial period.
Provided the service is made viable by regular commuters, schoolchildren and cyclists it is hoped to extend the service to weekends when it would be the ideal transport for fans visiting Pompey FC home matches and shoppers to Gunwharf Quays.
The old adage 'Use it or Lose it' was never more apt.