Audiobooks based on a new historical mystery crime series by Hayling Island author Pauline Rowson, author of the popular DI Andy Horton novels set in Portsmouth and the Art Marvik mystery thrillers.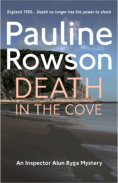 The first novel in the series, DEATH IN THE COVE, featuring Scotland Yard detective Inspector Alun Ryga, will be published in September. Rowson's crime novels have been described as; "Gripping, full of twists and turns, multi-layered, and compelling."
DEATH IN THE COVE is set in 1950s England, a country still struggling to come to terms with peace in the grip of austerity and rationing.
Pauline Rowson says, "The 1950s is a fascinating period where memories of the war are very strong, and the fear of more world conflicts haunt people. Policing in the 1950s was vastly different to today, no mobile phones, no dashing about and no computers. Scotland Yard were frequently called in to investigate murder cases around the UK and I chose to create a detective with an understanding of the sea gained during his time in the Merchant Navy, and an insight into human nature for both good and evil as witnessed during his days of incarceration in a German prisoner-of-war camp, making him unique in his approach to solving coastal based crimes. I hope readers will enjoy investigating the baffling crimes with Inspector Ryga."
DEATH IN THE COVE (Story Synopsis)
Recently promoted to Inspector at Scotland Yard, the former Merchant Navy seaman and German prisoner-of-war is despatched to the Island of Portland in Dorset to solve an unusual and baffling case.
The body of a man dressed in a pinstriped suit has been discovered in an isolated cove on the island by war photographer, Eva Paisley. Ryga is keen to prove his worth on his first solo investigation outside of London. Ignoring the warnings of the local police inspector and the Dorset Chief Constable that his trust in Eva Paisley is misjudged, Ryga quickly realises that her observations could provide the breakthrough he needs in a complex murder investigation and the answer to the haunting circumstances that have sent the man in the pinstriped suit to his death.
ABOUT Pauline Rowson
Pauline Rowson is the author of nineteen crime novels, fourteen featuring the rugged and flawed Portsmouth detective Inspector Andy Horton, three in the mystery thriller series featuring Art Marvik, the troubled former Royal Marine Commando now an undercover investigator for the UK's National Intelligence Marine Squad (NIMS) and two standalone thrillers, the award winning, In Cold Daylight and In for the Kill.
Death in the Cove will be published in paperback, as an ebook, on Amazon Kindle and Kobo and as an audiobook in September 2019.Death in the Cove will be published in paperback, as an ebook, on Amazon Kindle and Kobo and as an audiobook in September 2019.