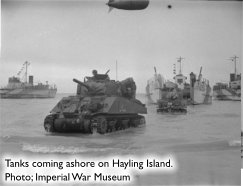 There were over 2,000 Service personnel on Hayling Island in 1944 when preparations for D Day were well advanced. It was decided that there should be a number of practice landings prior to D-day, and these would be made on six beaches along the South Coast to test the co-odination of the combined services, to land troops and hardware quickly and efficiently from the sea.
On Hayling Island residents had been instructed to remain indoors for the morning of the 4th May with the curtains drawn. One or two trades people tried to ignore the instruction but were soon told to return home by the local police and the military authorities. Human nature being determined to see what was happening residents did peep behind closed curtains and some found ingenious ways to climb onto their roofs to take a quick look. Travel over the bridge was controlled by the military. WRENS working in the Petty Officers and Sergeants Mess on the Seafront were instructed to stay in the Mess with the curtains drawn until the completion of the exercise.
The exercise, was code named 'operation Fabius'. Troops and armoured vehicles whose landing beach was on Hayling Island , first sailed anti-clockwise around the Isle of Wight before reaching Hayling to simulate the time troops would need to travel on landing craft.
Hayling beach had been divided into four sections between Staunton Avenue and Eastoke Corner; some 200 landing craft and ships were deployed to unload men and equipment of the 50th Northumbrian Division. On D-day these men and their equipment would land on Gold Beach in Normandy.
Hayling U3A is preparing a book illustrating the changing life for Islanders from 1919 - 1946 and will be staging a special exhibition at the Royal British Legion from the 2nd November . Many notable people lived on Hayling during those years and residents experienced new employment opportunities. With the assistant of the Hayling Lions Club, the U3A will be placing an additional memorial plaque in St. Mary's Church to recall the names of men who are not recorded on the existing plaques. With help from PO Publications a Memorial plaque will be placed in the Community Centre to honour the Civilians who lost their lives on Hayling Island during WW2.