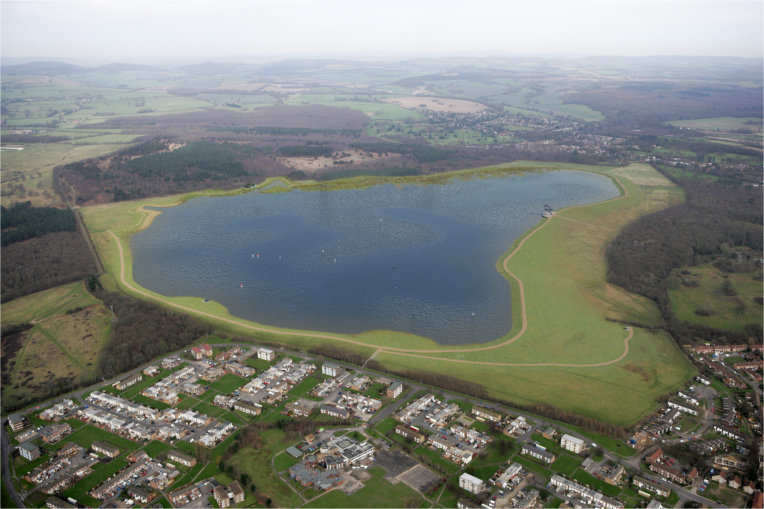 Portsmouth Water is encouraging people to give their views on the company's plan to build the first reservoir in the South East for decades.
The construction of Havant Thicket Reservoir near Havant, which is being delivered in collaboration with Southern Water, would secure resilient supplies for the water-stressed South East. It would also help protect environmentally sensitive chalk streams in Hampshire and create a new community and green leisure space - bringing more benefits for local communities and nature, including a wetland wildlife conservation area to support threatened species of birds.
A month-long public consultation on the project gets underway on 11 May. All the responses received will help shape the planning application for the new reservoir, which is due to be submitted later this year to Havant Borough Council and East Hampshire District Council.
Portsmouth Water has decided to go ahead with the consultation after careful thought and discussions with the councils, considering the need to keep everyone safe during the continuing situation around coronavirus. The company is able to do this because it will be providing a range of channels, including online, by phone and post, through which people can find out more and share their feedback, enabling a wide audience to be reached.
The latest information will be shared on what's being proposed for the reservoir's design, a visitor centre, the preferred routes for an access road and the route for a new pipeline to enable the reservoir to be filled and emptied. There will also be details on Portsmouth Water's plans to enhance the environment and support wildlife through the scheme.
Bob Taylor, Portsmouth Water Chief Executive Officer, said: "Havant Thicket Reservoir is a vital part of the South East-wide regional plan to safeguard future water supplies in the face of population growth, climate change and the need to take less water from the environment, in order to benefit nature.
"Although we've already consulted extensively with local communities, with the feedback we received very much shaping our thinking, I would encourage everyone to take part in our formal public consultation. It's running from Monday 11 May to Monday 8 June, when people can learn more about the reservoir project and tell us what they think.
"There will be lots of information available on our website and social media channels. Plus, we're planning a series of online webinars to give people a chance to put questions to our team. People will also be able to get in touch with us by phone and post. We'd really like to hear from as many people as possible, so we can be sure we're capturing and considering the views of our communities as we finalise our planning application."
During the consultation, a digital exhibition will be available online at www.portsmouthwater.co.uk/havant-thicket-reservoir, setting out full details of the reservoir project, including via videos and an interactive brochure.
A printed version of the brochure and a feedback form will be sent, on request, to anyone who does not have access to the website – please call tel. 02392 449084 and leave a message, or write to Havant Thicket Reservoir consultation, Portsmouth Water, West Street, Havant, PO9 1LG.
The consultation webinars, which people can sign up for via the reservoir webpages, will include video briefings followed by question and answer sessions with the project team. The dates and times for the sessions are as follows:
Saturday 16 May 2pm-4pm
Tuesday 19 May 10am-12pm
Friday 22 May 10am-12pm
Wednesday 3 June 2pm-4pm
Thursday 4 June 6pm-8pm.