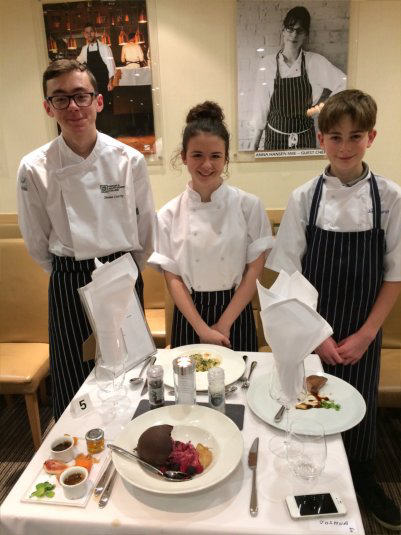 Havant Schools sweep the board in the ROTARY YOUNG CHEF COMPETITION SECOND ROUND.
Winners compete from across East Hampshire
SIX students, their families, teachers, Rotarians and judges gathered for the second stage of the Young Chef Competition on the morning of Saturday 20th January. All six were winners of the first round held recently at Park Community College. There were three students from the Havant Schools area and three students from Gosport Schools.
Competitors are between the ages of 13 years and 17 years.
The competition took place in the Restaurant and Kitchens at Havant and South Downs College thanks to the kind offices of Paul and Kerry Mansfield.
The judges were Oliver Clift from Emsworth Sailing Club, Tim Brookes from Brookfield Hotel and Simon Martin from Antonio's Restaurant in Fareham who all gave freely of their time.
Ollie Clift said "It is a real pleasure to be part of the Competition and to see the high standard which these young people can achieve."
The competitors had designed their own menus for a healthy meal for two adults consisting of starter, main and dessert courses for a total cost of £15. They also designed the table layout and set the table to enhance and reflect their choice of menu. They were given only 2 hours to cook and plate and display all three courses.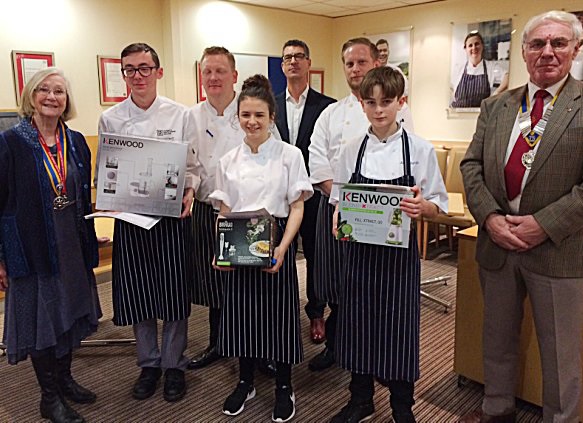 The judges complimented the students on the quality, individuality and presentation of their meals and the professionalism with which they undertook the cooking challenge. The results are:
First place - James Cardy from Havant and South Downs College
Second place - Izabella Darmanin from Park Community School, Havant and;
Third place - Joshua Marsh from Hayling College.
All participants received a certificate and the three winners were given prizes of food preparation equipment. These were presented by Havant Rotary Club President Jenny Edgell and Gosport Rotary Club President Ray Drake.
James and Izabella now qualify for the Third Round of the competition which will be held on 3rd March at Havant and South Downs College, they will compete against other winners which could be from schools across the whole of Hampshire, part of Wiltshire, part of Dorset, the Isle of Wight and the Channel Islands, which is the area covered by Rotary District 1110.
Well done James and Izabella. Well done HAVANT.