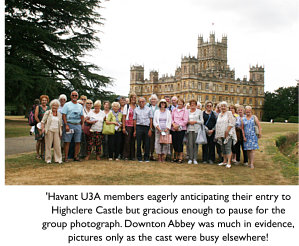 Yes it's the end of year six and Havant U3A continues its momentum with a membership of 260, 35 interest groups and monthly General Meetings open to all members. The latter attracts more than 80 attendees who meet, socialize and listen to a guest speaker, invariably with a film or presentation to enjoy. Members are welcome to bring a visitor for two free visits who will see for themselves what we do before making a decision to join.
So please come along to Bedhampton Community Centre for our AGM and Groups Fair on September 20th at 2.00pm where you can check out what's on offer and join our friendly band. The annual fee is £15 for the forthcoming year, There are no tests or certificates, just the stipulation that you are not in full time employment and are, in what we refer to as the" third age" in semi or full retirement.
Our ethos remains the same - to come together in interest groups set up by individuals who lead and engage us in many subjects and activities: - Cycling, walking, line dancing, creative writing, reading plays, local history, languages plus many more, the list is 35 and growing. If nothing catches your eye then come along with your suggestion and help to start a new group in a subject that interests you. We welcome new ideas and opinions, we aim to be structured yet friendly, entertaining and purposeful, challenging and rewarding, wherever the collective or independent journey takes us.
Our challenge as a group is not to be complacent about our success but to continue to be relevant in a society where age is just a number and we do not let ourselves become restricted in what we can achieve. Please find us on line at: www.havantu3a.org.uk