It is good to know that the Havant mill wheel is being renovated. I have recently been in contact with Paul Enos Tucker, whose grandfather Enos Ames was the miller there in the early 20th century. Paul writes:
"My maternal Grandfather, Enos Albert Ames (1871 to 1947), was the miller at Havant Mill from about 1905 until 1915 when he became the Engineer in charge of the first new sewage works at Brockhampton. This sewage works was later replaced by the Budd's Farm Sewage Works in the 1950s on land that my family had rented from the Stent family. As I understand it, my grandfather took on the Engineer job as corn supplies from abroad, for grinding to flour, had virtually dried up in 1915 because of the war. I should also mention that Enos was an excellent rifle shot winning many national trophies, and also a part time civilian rifle shooting instructor for soldiers during the First World War.
"My mother, Edna Lilian Ames, used to row a small boat around the mill pond collecting duck eggs and watercress. She was a manager of the local Co-op from the very young age of 16 during and after the First World War, until she married my father, Winfrith Oswald Tucker, in 1924. Sadly, Havant Mill was demolished in the late 1950s to make way for the road and the further development of Havant, but I well remember visiting there with my mother to see the last miller's family during my early school years. My mother also on occasions played piano and violin for the silent movies at the local Empire cinema. I went to St Nicholas Preparatory School in South Street and later to Purbrook Park County High School until 1959.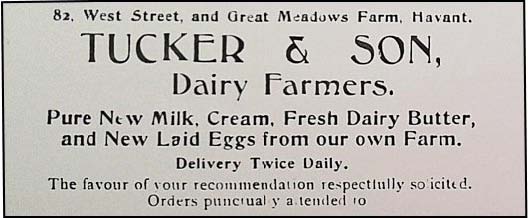 "Rice John Tucker, my paternal grandfather, moved to Havant about 1905 and had a wheelwright, wagon and joinery business in West Street. He also owned Great Meadows Farm, Brockhampton, and together with my father had a Guernsey Dairy herd and a milk round business (Tucker's Dairy) in Havant. They also rented a large area of land from Messrs Stents' glove factory, around Great Meadows and down to the sea, near what was then the Havant Refuse Tip, including Budd's Farm, Hart Farm, the Convent Orchard and the remains of the former Brockhampton Mill.
"In 1938, my father also took the lease of East Leigh Farm, Southleigh Road, from Sir Dymoke White, and farmed there with his wife, daughter Celia and three sons, David, Allan and myself until 1960. The family then bought a farm in Wiltshire. Great Meadows Farm was sold to IBM and much of the remaining leased land became the route for the new dual carriageway.
"The last family member to live in Havant was my father's sister, Nellie Margaret Tucker, who died in December 2000. My other aunt, Kath, together with her husband, Jack Burge and his sisters Daisy and Blanche, owned and ran a grocery shop in North Street for many years."