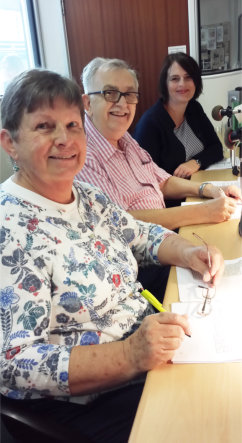 Havant Borough Talking Newspaper, a lifeline for blind and partially sighted people in Havant Borough is looking for volunteers to keep its popular magazine going. Sadly the long running and popular magazine has come to a stop due to a shortage of people to help.
The magazine has been produced every three months featuring original material, quizzes, and articles from printed magazines (with their permission of course). A wide variety of subjects were covered; stories about local characters alive and dead, book reviews, local history and much more. The 'What's On' feature was very popular.
In a recent survey of our listeners, the magazine received good feedback. So it is particularly disappointing that the magazine is not be able to continue without further volunteers come forward.
So what is needed? Enthusiasm first and foremost, and an interest in the world around you.
Co -producer Jan Turner explained how the magazine is put together.
"We meet to discuss what we would like to have on the magazine. Then we would go away and research or write the articles, features and quiz. One of us may write a restaurant review (some one has to do it!).The recording takes a full day, but apart from that it is not a heavy commitment. Recording days are great fun, where we welcome volunteer readers, and try to create a magazine which we can be proud of."
You can learn more about Havant Borough Talking Newspaper at www.hbtn.org.uk or on our Facebook page. If you would like to volunteer, or just find out more about what's involved, you can email Havant Borough Talking News at admin@hbtn.org.uk or contact the office at 19 East Street, Havant PO91AE. Telephone 023 9248 0101