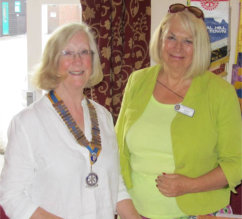 New Rotary year and a not so new President. Recycling at its best.
For the second time Jenny Edgell has been given the Chain of Office of Havant Rotary.
Retiring President of Havant Rotary and ex-Mayor Jackie Branson above, recently handed over the Chain of office to Jenny Edgell. Jenny was the first Lady President 15 years ago.
Jenny said "It's a privilege to be asked again to lead this vibrant group. When I joined Havant Rotary there were 29 members now we have over 50. We have certainly bucked the trend as all organisations struggle to find members. That's because we are such friendly volunteers.
It's, strange how many people know the name 'Rotary' and yet they don't know that we are the largest Volunteer Organisation in the world.
"This year my named Charity is Southern Domestic Abuse Service [SDAS].
Jenny wants to set up a networking session for Businesses in Havant, Emsworth and Hayling Island, "just a simple social occasion where we can encourage would be volunteers to join us to help where we can."
If you want to know more about Havant Rotary and how to volunteer then email Jenny president@havantrotary.org.uk www.havantrotary.org.uk