Portsmouth Water will be carrying out site investigations on the land it owns, north of Staunton Country Park and next to Havant Thicket, in Havant, to learn more about the soil and groundwater levels on the site.
The work involves drilling boreholes and creating shallow excavations which will allow us to study the soil, measure groundwater levels and install groundwater monitoring equipment.
This is not the same as fracking. It is a very different sort of activity. The depth of the drilling is very shallow – up to a maximum of 60 metres – which is far short of the depths at which activities such as fracking take place.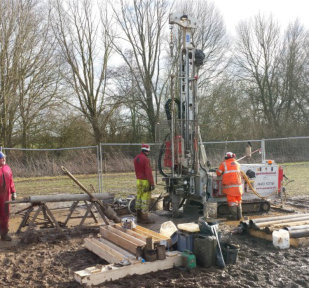 We'll be using small towable or tracked drilling rigs and JCB-type excavators.
The investigations will help us prepare a design for a reservoir on the site – to provide vital water supplies for the area around the reservoir and the wider South East.
The ground where the work has taken place will be restored as soon as the activities have finished and the equipment has left the site. If the weather is very wet, then the final stages of restoring the ground may need to wait until the Spring. However, the excavations will all
be filled in and the site will be safe.
The reservoir will also provide a new public leisure and wildlife hub for communities in the Havant area.
The company plans to submit a planning application for the reservoir to Havant Borough Council later next year.