Volunteer Tony hangs up his microphone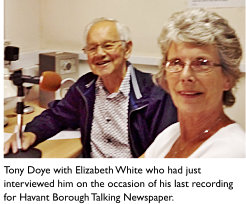 At Havant Borough Talking Newspaper, listeners and volunteers alike were saddened to learn that Tony Doye, a stalwart of the charity for many years, had decided to retire.
Tony joined the Talking Newspaper in 1994 and became a firm favourite amongst listeners for his warm and friendly voice. In fact, it was not unusual for listeners to say that to hear Tony was like welcoming a friend into their home.
In his last recording, Tony was interviewed by Elizabeth White, another reader and friend of long standing, who asked him whether his involvement in amateur dramatics had helped him develop his warm and impeccable style. Ever humble, Tony said that the process of delivering lines had not come automatically to him. He had had to learn this. Initially, he had played a number of comedy roles where timing and delivery was so important because 'if you didn't get a laugh, then you had failed'. He felt that this experience had definitely helped him when recording the Talking Newspaper.
Apart from being a reader from his earliest days with the charity, Tony also served on committee and for many years worked with volunteer, Stella Capp, to produce the quarterly magazine, Look Hear.
In summing up his time with the Talking Newspaper, Tony said it was the people that he would miss the most. He felt that the volunteers he had worked with over the years and the listeners he had had the good fortune to meet were all 'such lovely people', and he particularly enjoyed the social gatherings where listeners and volunteers had joined together. He said they were 'simply splendid'.
Havant Talking Newspaper is a free, fortnightly recording of local news stories and information (courtesy of PO Publications and other community newspapers) for blind and visually impaired people living in Havant Borough.
In order to produce the Talking News, volunteers are needed. As a charity which is run totally by volunteers, they are the lifeblood of the organisation. Maybe Tony's story will inspire you. If you have just four or five hours a month to spare and would like to find out more, please call 023 9248 0101 - e-mail: admin@hbtn.org.uk or visit website www.hbtn.org.uk
Or, if you know anyone who would like to receive the Talking News, please make contact using one of the above methods.